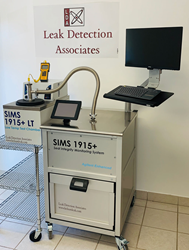 As 2019 comes to a close, we are proud of our new facility and fresh product line which a platform for continued success in providing solutions for our clients worldwide
EGG HARBOR TOWNSHIP, N.J. (PRWEB) December 27, 2019
Leak Detection Associates (LDA), the world's premier manufacturer of custom built, helium-based leak testing instruments for the Pharmaceutical, Biotechnology, Medical Device and Food Packaging Industries is excited to celebrate the completion of its first calendar year under new management. Following acquisition by CLJ Holdings in February, 2019, a comprehensive and aggressive reorganization plan was implemented by CEO Brian Mulhall, intended expand and improve product and service offerings to a global market. Multiple major milestones were achieved over the course of 2019, including opening a new company headquarters, strategic partnerships for global distribution and support, new product offerings including the Agilent-based SIMS 1915+ and low temperature (-80°C) testing systems, and the launch of newly developed Part-11 compliant SIMS software.
"Entering 2019, we outlined ambitious goals that, if accomplished, would reaffirm LDA's position as the premier manufacturer of helium leak test instruments specifically tailored to the regulated life sciences industries" commented Alan Weiss, Chief Financial Officer of LDA. "As 2019 comes to a close, we are proud of our new facility and fresh product line which a platform for continued success in providing solutions for our clients worldwide."
While helium leak detection has a longstanding history of use in pharmaceutical packaging operations, with ASTM F2391-05 being written by LDA founder Dr. Darrell Morrow, recent industry guidelines such as USP 1207 and the proposed revision to EU Annex 1 continue to drive adoption of more sensitive and deterministic leak tests worldwide. To better connect with this market, LDA launched a redesigned website in 2019 and has made a commitment to participating in industry events, such as Interphex and Parenteral Drug Association (PDA) Workshops on CCIT. To better cater to LDA's client base with global site networks, newly established strategic partnerships were forged, including an agreement with IPP for instrument distribution and support across the UK and Ireland.
Critical to the 2020 product line, Director of Engineering Jeff Morrow-Lucas and his team created two new hardware offerings in 2019; notably the SIMS 1915+ Helium Leak Detection System packaged with LDA's newly released, Part-11 compliant SIMS software. Incorporating Agilent Technologies components, the new system, completely redesigned, marks improvements in instrument performance, intuitive operation, and access to Agilent's global maintenance and service network, while the newly developed SIMS software ensures data integrity. In addition, the newly released LT80 add-on system enables testing of pharmaceutical package systems at temperatures as low as -80°C, critical for many biologics, cell and gene therapies, which require storage or shipment at aggressive temperatures that can cause leakage.
As clients have come to expect, each new SIMS 1915+ will be customized to client's specific testing needs, whether testing vials, blister cards, cartridges, or pre-filled syringes. Each SIMS 1915+ can be complimented with Leak Detection Associates' robust and ever-expanding catalog of accessories, service, and contract offerings to provide end-to-end leak testing solutions.
About Leak Detection Associates, LLC
For over 20 years, Leak Detection Associates has been the premier manufacturer of custom helium leak detection instruments for the pharmaceutical, biotechnology, medical device and food packaging industries. LDA's well-established technology has been incorporated into ASTM and compendia guidance documents. This robust industry experience, combined with the advanced capabilities of its newest model the SIMS 1915+ helium leak detection unit, provides companies with tools to quantitatively evaluate leakage, improve the package development cycle, establish manufacturing controls, and ultimately reduce risk to the product and consumer throughout the lifecycle.