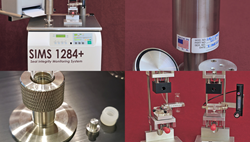 I am excited about this opportunity as I know Dr. Morrow and his team have been on the cutting edge of helium leak testing systems for well over 25 years
EGG HARBOR, N.J. (PRWEB) February 14, 2019
Leak Detection Associates (LDA), the world's leading provider of helium based leak testing systems for the pharmaceutical, biotechnology and food industries, formally announced today the appointment of two key leadership executives to guide the company moving forward. Brian Mulhall has been named Chief Executive Officer and will oversee all aspects of the company's operations, including product development, manufacturing, client services, sales and marketing. He will also be charged with leading the company's global expansion plans going forward. Alan Weiss has been named Chief Financial Officer and will take charge of all financial aspects of the company's operations. Mr. Mulhall and Mr. Weiss form an experienced team, working together with proven success for well over twenty years. Most recently, the pair served in the same roles for Whitehouse Analytical Laboratories, a company they founded in 2002 and ultimately sold to AMRI in December of 2015.
Commented Mr. Mulhall, "I am excited about this opportunity, as I know Dr. Morrow and his team have been on the leading edge of helium leak testing systems for over 20 years. The foundation is in place for us to assemble a team of leaders dedicated to vastly improving and expanding the LDA program, and I look forward to taking part in our future plans for success."
"I share Brian's excitement and enthusiasm, and we are looking forward to a bright future for LDA. They possess a truly unique approach and solution to leak testing systems, especially as it relates to key industries like pharma and biotech. The experience and commitment the current LDA team brings gives us a strong platform on which to build," added Alan Weiss.
A number of formal plans and announcements will be forthcoming in the next few months. Concurrently, LDA's lead product, a helium leak test system called the SIMS 1284+ combines the latest in helium leak detection technology with its proprietary SIMS software for data collection and analysis of various package systems. When using helium as a tracer gas, package leakage can be quantitatively measured to levels far exceeding the sensitivity of traditional bubble and dye penetration tests, as well as modern technologies with other unique applications, such as pressure decay, mass extraction, and high voltage leak detection. The LDA system is a plug-and-play solution for analysis by ASTM F2391-05, a method authored by LDA's founder, Dr. Darrell Morrow, and is fundamentally represented in guidance documents such as the USP 1207 general chapter.
Using uniquely designed test fixtures, quantitative leak rate data as garnered by the LDA SIMS1284+ has supported a full range of package systems, including cold form aluminum blisters, foil pouches, vials, syringes, and cartridges requiring a higher level of seal and closure integrity to provide gas permeation or microbial ingress protection and security. While the instrument provides options for pass/fail package seal quality and container closure integrity testing, tailored applications allow evaluation of unique and specific study goals, such as a direct comparison of various packaging materials and forms, production line settings, or stability storage conditions. Flexible in its use, the technology and equipment can be used across a product lifecycle; in package design, tooling qualification, production line setup and package quality monitoring.
About Leak Detection Associates, LLC
For over 20 years, Leak Detection Associates has been the premier manufacturer of custom helium leak detection instruments for the pharmaceutical, medical device, and food packaging industries. LDA's well-established technology has been incorporated into ASTM and compendial guidance documents. This robust industry experience, combined with the advanced capabilities of the flagship SIMS 1284+ helium leak detection unit, provides companies with tools to quantitatively evaluate leakage, improve the package development cycle, establish manufacturing controls, and ultimately reduce risk to the product and consumer throughout the lifecycle.