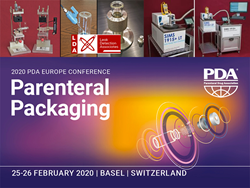 We are extremely excited to be part of this highly educational event to specifically represent a key test method for container and package integrity testing specific to USP 1207 requirements
LITTLE EGG HARBOR, N.J. (PRWEB) December 23, 2019
Leak Detection Associates, the leading global supplier of helium based leak detection systems for the Pharmaceutical, Biotechnology and Medical Device Industries, is excited to announce that it will be a contributing instrument manufacturer and technical presenter at the Parenteral Drug Association (PDA) Container Closure Integrity Testing Basic Training Course. Held in conjunction with PDA Europe's 10th Parenteral Packaging Conference, the two-day training program encompasses presentations on theory and real-life applications of all deterministic container closure integrity test (CCIT) technologies referenced in USP 1207. Critically, participating attendees are given the opportunity to witness demonstrations of actual instrumentation, with the unique opportunity for hands-on use in an engaging and learning-based environment.
The PDA 10th Parenteral Packaging Conference will be held in Basel, Switzerland on February 25th & 26th and the CCI specific training course is scheduled to follow on February 26th & 27th. Presenting on behalf of Leak Detection Associates will be Brian Mulhall, CEO and former Founder/President of Whitehouse Analytical Laboratories, while Jeff Morrow Lucas, LDA's Director of Engineering, will host the hands-on technical training for attendees. In support of these technical presentations and hands-on activities, Leak Detection Associates will be providing its newest model, the SIMS 1915+ Helium Leak Detection System. Attendees will gain an understanding of how the system can be used to establish inherent integrity, optimize manufacturing, and more for a range of package systems and at extreme levels of sensitivity. LDA will also be featuring its new, low temperature add-on system that enables analysis of packages down to -80°C, critical for product-packages stored at these aggressive temperatures.
"We are extremely excited to be part of this highly educational event to specifically represent a key test method for container and package integrity testing specific to USP 1207 requirements," commented Brian Mulhall, LDA's CEO. "For more than 20 years, Leak Detection Associates has held a leadership role in the development and use of helium technology for container leak testing and having the opportunity to advance our knowledge and experience as part of a unique training seminar such as this will enable the value of helium leak testing to be shared with many relevant participants who are looking for CCI solutions in this highly regulated area."
This course focuses on theoretical and practical fundamentals of various CCI testing technologies and provides a systematic approach to apply these testing methods for CCI verification throughout drug product lifecycles. The course, as a whole, will enable the participants to implement CCI testing strategies to ensure adequate drug product protection and be compliant with relevant regulatory and compendial requirements. In this course, participants gain critical problem-solving skills through:

Interactive discussions with a panel of cross-functional technical experts consisting of CCI testing laboratory experts, testing instrument suppliers/manufacturers, and pharmaceutical packaging development engineers
Hands-on testing training on the newest innovations and state-of-the-art instruments
Real-world case studies
Being held in conjunction with the 10th Parenteral Packaging Conference, this training course will utilize lectures, case studies, and interactive hands-on training on testing instruments to provide insight into the latest developments of Container Closure Integrity (CCI) Testing. It is expected that participants will develop an understanding of the most up-to-date regulatory and pharmacopeia requirements on CCIT while learning how to define CCI requirements for various container and drug product types using a risk-based approach. The key focus will be on practical applications using the deterministic methods such as tracer gas detection (e.g. helium leak detection), electrical conductivity and capacitance (HVLD), vacuum decay leak detection, laser-based gas headspace analysis, and mass extraction leak tests. Other key topic areas to be covered include selecting and applying appropriate testing methods for both laboratory and in-process testing to formulate comprehensive package integrity verification profiles, defining CCI testing method development and validation approaches and best practices, and avoiding common issues and pitfalls in CCI testing applications. To learn more about the conference and to register for attendance at this valuable training course, please visit http://www.pda.org.
About Leak Detection Associates, LLC
For over 20 years, Leak Detection Associates has been the premier manufacturer of custom helium leak detection instruments for the pharmaceutical, biotechnology, medical device and food packaging industries. LDA's well-established technology has been incorporated into ASTM and compendial guidance documents. This robust industry experience, combined with the advanced capabilities of its newest model, the SIMS 1915+ helium leak detection unit, provides companies with tools to quantitatively evaluate leakage, improve the package development cycle, establish manufacturing controls, and ultimately reduce risk to the product and consumer throughout the lifecycle.