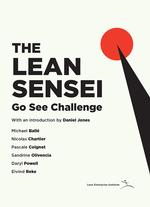 The book "provides both a conceptual and hands-on toolkit for developing lean leaders" by challenging readers to reflect on what they do as workplace coaches.
BOSTON (PRWEB) October 06, 2020
The Lean Sensei, a management book published by the nonprofit Lean Enterprise Institute, has received the Publication Award from the Shingo Institute, a program established in 1988 at the Jon M. Huntsman School of Business at Utah State University. The publication award "recognizes and promotes writing that has had a significant impact and advances the body of knowledge regarding operational excellence," according to the institute.
Uniquely, the book positions lean management not as a production system but as a business system that improves competitiveness by continuously developing people's capabilities. It focuses on the critical role of the sensei who guides others, especially senior leaders, in understanding and implementing lean concepts and practices.
Continuous Improvement for Leaders
The book "provides both a conceptual and hands-on toolkit for developing lean leaders" by challenging readers to reflect on what they do as workplace coaches, according to the award announcement.
The authors contend that since lean is a system of continuously developing people, the role senseis play is vital because they help senior leaders and others in the company deepen their understanding of lean management.
The award statement called the six co-authors "an A-team of lean pioneers from France, America, Norway, and Britain who have experienced and followed the path of the sensei," a master of lean management thinking and practice. Michael Ballé, Nicolas Chartier, Pascale Coignet, Sandrine Olivencia, Daryl Powell, and Eivind Reke will receive the award at a ceremony during the Shingo Conference in Provo, Utah, on May 17-21, 2021.
About the Book

Publisher: Lean Enterprise Institute, Inc.
ISBN-13: 978-1-934109-57-1
ISBN-10: 1-934109-57-6
Publication Date: April 12, 2019
Number of Pages: 176
Price: $22.00
About the Shingo Institute
The Shingo Institute is home of the Shingo Prize, an award that recognizes organizations that demonstrate an exceptional culture that fosters continuous improvement. The institute is named after Japanese industrial engineer and Toyota adviser, Shigeo Shingo. Shingo distinguished himself as one of the world's thought leaders in concepts, management systems, and improvement techniques that became key contributions to the Toyota Production System, the prototype lean management business system. Learn more at http://www.shingo.org.
About the Lean Enterprise Institute 
Lean Enterprise Institute Inc. is a 501(c)(3) nonprofit based in Boston, MA, with a mission to make things better through lean thinking and practice by helping companies create more value and prosperity while consuming the fewest possible resources. Founded in 1997 by management expert James Womack, PhD, LEI conducts research through co-learning partnerships with companies, teaches on-site and online workshops, publishes books and ebooks, organizes conferences, and shares practical information about lean thinking and practice at http://www.lean.org.