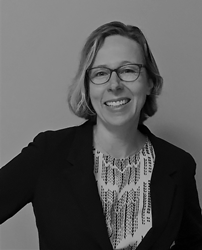 "I can't wait to get started in my new role, so I can draw on my skills in designing and implementing training strategies, developing the capabilities of people at all levels, and helping organizations use lean thinking and practice to solve business problems and continuously improve."
BOSTON (PRWEB) October 13, 2020
The nonprofit Lean Enterprise Institute (LEI), a global leader in lean management thinking, practice, and innovation, today announced the appointment of Lara Anderson, an experienced management coach and lean practitioner, as the newest member of its senior management team.
In her new role as team leader for education and events, Anderson is responsible for the strategy and operations of LEI's training and conference activities. A Seattle native, Anderson had been a member of the training faculty at Boston-based LEI since 2015. She helped companies in retail, construction, supply chain, and healthcare improve business results and develop people as problem solvers.
She was a key contributor to LEI's development of a new online value-stream mapping workshop and its inaugural Virtual Lean Learning Experience 2020 conference, which is underway now.
"Lara truly is an emerging lean leader, carrying the torch passed by LEI Founder Jim Womack and Senior Advisor John Shook" said LEI President Josh Howell. "Her strengths cover a wide range of key business skills, including project management, leading and managing teams, coaching team members, coaching managers and trainers responsible for developing others, helping organizations achieve business goals through continuous improvement, and designing training experiences that engage learners and improve their capabilities," said LEI President Josh Howell.
Anderson also will be responsible for connecting organizations that need help with lean transformations with experienced and capable coaches in LEI's faculty network, Howell said.
Experienced Continuous Improvement Coach
"I can't wait to get started in my new role, so I can draw on my skills in designing and implementing training strategies, developing the capabilities of people at all levels, and helping organizations use lean thinking and practice to solve business problems and continuously improve." Anderson said.
Previously, Anderson spent 20 years at Starbucks, serving as a district manager in charge of a dozen retail stores and working in training and development and project management at Starbucks' headquarters, where she was introduced to lean management. She helped develop and deploy Starbuck's lean business system that was implemented to over 10,000 retail stores globally. The new lean system improved quality and productivity while making work easier for frontline team members. As part of the system's rollout, Anderson, coached leaders at all levels on using lean principles to better understand the work and develop people as problem solvers.
Anderson holds a bachelor's degree from Whitworth University and a master's in organizational management and development from Fielding Graduate University.
About the Lean Enterprise Institute
Lean Enterprise Institute Inc. is a 501(c)(3) nonprofit based in Boston, MA, with a mission to make things better through lean thinking and practice by helping companies create more value and prosperity while consuming the fewest possible resources. Founded in 1997 by management expert James Womack, PhD, LEI conducts research through co-learning partnerships with companies, teaches on-site and online workshops, publishes books and ebooks, organizes conferences, and shares practical information about lean thinking and practice at http://www.lean.org.