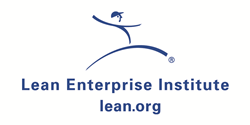 "That's not meant as a political statement. The world is warming up and some places are getting wetter and some places are getting drier."
BOSTON (PRWEB) September 16, 2020
Lean management thinking and practice is well-positioned to fix the business turmoil caused by the coronavirus pandemic as well as other critical looming challenges, according to the two leadoff keynoters at yesterday's start of the Virtual Lean Learning Experience 2020 (VLX) conference.
The "big crisis" of the 21st century for lean practitioners to solve is climate change, said Jim Womack, author, management thinker, and founding CEO of the nonprofit Lean Enterprise Institute (LEI), during an online keynote and Q&A. The VLX conference was organized by the Boston-based Lean Enterprise Institute.
"That's not meant as a political statement. The world is warming up and some places are getting wetter and some places are getting drier." He said it is clear that a lot of "adjustment" is necessary.
Because lean methods create more value with higher quality and lower costs by removing wasted time, money, space, and human effort from business processes, the freed-up resources can be used to pay for the adjustments such as solving environmental problems, Womack suggested.
Those same waste-removing techniques are ideally suited to find the best ways of transporting and distributing coronavirus vaccines. He called vaccine transportation and distribution "the next wave" in fighting the pandemic. Another problem to solve is improving healthcare processes to deliver better long-term care to coronavirus patients.
Six Principles for Lean Innovation
During his keynote and Q&A, Jim Morgan, author, former product development executive at Ford, and most recently COO of startup Rivian, urged attendees to move beyond traditional innovation methods to lean product and process development (LPPD).
Traditional development tends to develop new products and services in isolation or relies on a lone-genius approach. The LPPD framework combines people, processes, and tools to create new products and services in tandem with the value streams for delivering them to customers. As a result, LPPD not only delivers a succession of profitable products but better futures for companies, employees, suppliers, and stakeholders.
Morgan said LPPD is guided by six principles:
1. Understand before you execute
2. It's a team sport
3. Synchronize workflows
4. Build in learning and knowledge reuse
5. Design value streams
6. People first
Womack and Morgan kicked off "Lean Thinking Past, Present, and Future, the first of the VLX's conference's four tracks, which continue through November 2020. Information about content and registration is available at: https://elearning.lean.org/pages/virtual-lean-learning-experience
About the Lean Enterprise Institute
Lean Enterprise Institute Inc. is a Boston-based nonprofit with a mission to make things better through lean thinking and practice by helping companies create more value and prosperity while consuming the fewest possible resources. Founded in 1997 by management expert James Womack, PhD, LEI conducts research through co-learning partnerships, teaches on-site and online workshops, publishes books, organizes conferences, and shares practical information about lean thinking and practice at http://www.lean.org.