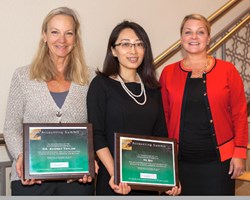 Linlin was recognized as LEI Lean Accounting Student for 2013 due to her commitment to help others develop a deep understanding of the new paradigm in Lean Accounting. — Jim Huntzinger
Fairfield, Iowa (PRWEB) October 25, 2013
Maharishi University of Management PhD candidate, Ye Shi (Linlin), was awarded the 2013 Lean Enterprise Institute's annual Excellence in Lean Accounting Student Award during their Lean Accounting Summit this month in Orlando, Florida. The Lean Enterprise Institute (LEI) is a non-profit educational association, which recognizes students who have been actively engaged in research, education, and the development of Lean Accounting and accounting for Lean.
Andrew Bargerstock, PhD, CPA, director of MUM's MBA programs, had nominated Linlin for this award based on her accomplishments in lean accounting. "We are very happy that Lin Lin's accomplishments are recognized by one of the biggest names in Lean Accounting, James Huntzinger, in his role as the chair of the Student of the Year selection committee for Lean Enterprise Institute (LEI) and the Lean Accounting Summit."
On September 23rd Jim Huntzinger, president and founder of Lean Frontiers, and author of Lean Cost Management: Accounting for Lean by Establishing Flow, notified Linlin of her selection as Lean Accounting Student of the Year. Huntzinger founded the Lean Accounting Summit in 2005, as well as produced many other Lean summits.
As to why she was selected, Jim Huntzinger said, "Linlin was recognized as LEI Lean Accounting Student for 2013 due to her commitment to help others understand and develop a deep understanding of the new paradigm in Lean Accounting. We hope that she will continue to deepen her knowledge of this area and encourage more students and faculty to join the Lean Accounting adventure, and utilize her PhD research to both deepen and further her understanding of lean accounting."
This award continues a pattern of recognition for MUM from LEI. Dr. Andrew Bargerstock was named Lean Accounting Professor of the Year in 2009, and Manjunath Rao was selected as Lean Accounting Student of the Year in 2011 for his PhD dissertation.
Linlin completed both the MBA in Accounting (2011) and the Post-graduate Certificate in Lean Accounting (2012) at MUM. In September 2013 she began her second year of teaching three of the two-credit courses in the Lean Accounting Certificate program.
In collaboration with Dr. Bargerstock, Linlin has developed case studies to illustrate how to implement kaizen methodologies to improve accounts payable processing. Linlin is currently taking coursework in the PhD program at MUM and expects to begin her dissertation next year.
Linlin is passionate about Lean, which she says is "the great strategic thinking that leads to true sustainable development. Lean accounting is an advanced way of articulating business through present and real financial numbers compared to the historical and sometimes misleading numbers provided by traditional accounting."
Linlin says Lean enables better communication and employee engagement, and greatly enhances leadership. She adds, "It's also a great illustration of how to do less and accomplish more, which is a fundamental principle of our university's educational approach, Consciousness-Based Education."
Linlin says she is thrilled and honored to be recognized as the Lean Accounting Student of the year. "I am grateful for the support from MUM, Lean Frontiers, LEI and IMA. I appreciate the guidance and support from Dr. Andrew Bargerstock and other mentors and friends. Without them, any personal development for me would not have been possible."
The summit offered Linlin, and other participants, the opportunity to meet with elite academic lean professionals and business lean practitioners. "It's thought provoking to hear the speakers from different fields articulating the Whys and Hows of lean accounting based on their empirical research and practical experience. To be able to talk to them face to face and exchange opinions during the open discussions was fantastic. Also, the Q&A session with the executive team from the renowned Institute and the rest of the speakers provided the practical solutions for any problems people may encounter during lean transformation. It was really exciting to learn the live examples and have the inspiring conversations."
Included in Linlin's award was a complimentary registration at the Summit and $500 towards her travel expenses.
Photos of LEI Award Winners are available at garrethoover.com/LEI. Tabitha Dubois (red dress), Director of Finance and Administration for LEI, gave the Excellence in Lean Accounting Student Award to MUM's Ye Shi, and the Excellence in Lean Accounting Professor Award to Dr. Audrey Taylor, Professor of Accounting at Western Washington University.
Founded in 1971, Maharishi University of Management (MUM) offers Consciousness-Based℠ Education, a traditional academic curriculum enhanced with self-development programs like the Transcendental Meditation® technique. Students are encouraged to follow a more sustainable routine of study, socializing and rest without the typical college burnout. All aspects of campus life nourish the body and mind, including organic vegetarian meals served fresh daily. Located in Fairfield, Iowa, MUM is accredited by The Higher Learning Commission and offers bachelor's, master's, and doctoral degrees in the arts, sciences, humanities, and business. Visitors Weekends are held throughout the year. For more information, call the Admissions Office at 800-369-6480 or visit http://www.mum.edu.