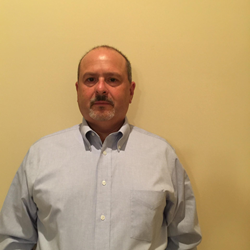 Dave will be a valuable resource with his deep knowledge of lean management and many years of successful hands-on implementation projects.
Cambridge, MA (PRWEB) November 09, 2016
The nonprofit Lean Enterprise Institute (LEI), a global leader in lean management thinking and practice, announced today that David Errico has joined LEI to support lean transformations at companies in its growing Co-Learning Partners program.
Errico joins LEI as a senior coach with 28 years' experience as a continuous improvement leader and practitioner at Toyota Motor Manufacturing North America, General Motors, Delphi Automotive, and Medtronic's Surgical Technologies and Neuromodulation divisions.
"I'm honored to join the team at LEI, a company with products and services that are respected worldwide. The opportunity to develop and contribute at LEI is truly my World Series, game-winning home run," Errico said. "And I'm excited to contribute to the continuing success of Co-Learning Partners as it takes on new customers in new industries."
LEI COO Mark Reich said, "Dave comes to us with a wealth of experience and knowledge. As we grow our partner's criteria to cover new areas and industries, Dave will be a valuable resource with his deep knowledge of lean management and many years of successful hands-on implementation projects. In addition, his combined operations and accounting background allows him to approach process improvement with a business perspective."
Lean Learning Partners
Co-Learning Partners are a select group of companies from a variety of industries that have demonstrated executive commitment to lean transformations, an enthusiasm for collaborative learning where the work is actually done, and a willingness to share the results with the global lean community.
Errico joins LEI from Medtronic's Surgical Technologies Division where he was the lean deployment manager, leading and implementing strategic improvement activities across seven manufacturing sites. He held the same post at Medtronic's Neuromodulation Division, working with internal plant operations and external suppliers to improve quality, lead times, and costs.
As a global supplier development manager at Delphi, Errico was the only person selected for a three-year, full-time assignment at Toyota's Operation and Management Development Division where he learned and implemented Toyota Production System (TPS) projects under the direction of the carmaker's continuous improvement experts. Coincidentally, Operation and Management Development is the sister division to the Toyota Production System Support Center once headed by Reich.
In other accomplishments, Errico:

Completed two years TPS supplier development training at Delphi, directed by the Toyota Production System Support Center.
Won Delphi Lean Leader of the Year award.
Won seven Medtronic Star of Excellence awards for lean transformation activities that significantly improved productivity, delivery, and quality.
Presented at LEI's 2015 Lean Transformation Summit.
Errico holds a master's in business administration and a bachelor's in accounting from Canisius College.
About the Lean Enterprise Institute
Lean Enterprise Institute Inc., a 501(c)(3) nonprofit based in Cambridge, MA, makes things better through lean research, training, publishing, and events. Founded in 1997 by management expert James P. Womack, PhD, LEI supports other lean initiatives such as the Lean Global Network, the Lean Education Academic Network, the Healthcare Value Network, and the Center for Lean Engagement and Research in Healthcare at the University of California Berkeley School of Public Health. Learn more at lean.org.