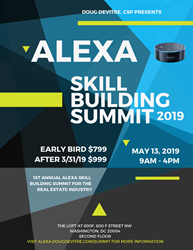 I'm not a software developer or computer programmer but I've learned how to get started on Amazon Alexa to serve the real estate industry. You can too and it's easier than you might think!
ST. LOUIS (PRWEB) January 30, 2019
Just about every real estate franchise, brokerage, and association have a website to help homeowners make better decisions throughout the home buying and selling process. Mobile apps too. But there's a new trend that's taking the real estate industry by storm that only a select few have figured out, which will soon become the standard in search, information accessibility and how it delivers a whole new experience powered by the sound of your own voice. That trend is the #VoiceFirst movement powered by Amazon Alexa.
Before the Internet, the primary gatekeeper of real estate information was the real estate agent. Now you can access just about everything you normally would from an agent now online from their website. According the National Association of Realtors the most common features of a real estate website include property listings, agent/staff profiles, mortgage/financial calculators, community information, and information on the home buying and selling process. That same information can now being programmed into Amazon Alexa in a conversation dialogue using devices like the Amazon Echo Dot, Echo, and Echo Show.
"Many real estate companies and associations have a website developer or need to outsource a firm to create and maintain their website. However in order to program Alexa to do the talking for you it involves honing a different set of skills necessary to create a quality voice-friendly user experience" says Doug Devitre, an Amazon Alexa developer and User Experience Professional certified by the Nielsen Norman Group. "You have to think about what a customer might want to do first, variations of the words they would use to ask for what they want, and deliver the precise wording that tells the user what they want to know and what to do next. If anything, website developers, marketing professionals, and IT directors need to learn a new foundation of knowledge they can build upon just like they learned HMTL5, CSS, and hosting for their website."
Doug Devitre is on a mission to help the real estate industry make sense of the #VoiceFirst movement. He wants to help real estate franchises, brokerages, and associations get started quickly on the Amazon Alexa platform without paying exorbitant fees to a marketing or software development agency. The Alexa Skill Building Summit is the very first event of its kind designed for the real estate industry and kicks off Monday May 13 2019 in Washington DC. Those that register for the summit will receive special access to Alexa skill building checklists, video tutorials to follow along, and code libraries to customize so that anyone who participates should be able to submit a basic skill to the Amazon Alexa Skill store before they leave.
"I was never a website developer, computer programmer, or in IT. I'm a marketing guy. But I have invested the time in learning the Amazon Alexa platform because this trend will soon become the norm and I would rather be ahead now than playing catch up years later" says Devitre. "Real estate brokerages can use Amazon Alexa for brand awareness, lead generation, and customer service. Real estate associations can use Amazon Alexa to advocate for private property rights on Capitol Hill, deliver training and development opportunities in unique ways, and launch scalable consumer-driven campaigns on this new platform. The use cases are endless as long as you have laser focus on what the end user wants and get creative on how you deliver the experience."
Participants can register online and spacing is limited. This event is expected to sell out and a waiting list will be procured to ensure the event is at maximum capacity.