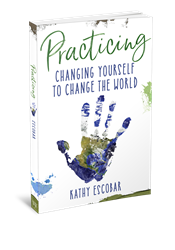 Faith Is a Verb—It Is Meant to Be Practiced
LOUISVILLE, Ky. (PRWEB) February 18, 2020
From spiritual nones and dones to faithful followers of Jesus, pastor Kathy Escobar has discovered a deep hunger that crosses gender, age, socioeconomic status, and denominational backgrounds. Each of us is craving a guide to help us practically live out a life of love, mercy, and justice. But then every day seems to bring more and more terrible news about how fractured, divided, and broken our world is. This leads to the questioning refrain: Where do I even start? What can I, as one person, really do to create the change I want to see? Kathy Escobar is here to let you know that you have more power to change the world than you realize, and it starts from within.
"Practice is centered on deep inner work in our souls that propels us to habitually, intentionally, and repeatedly live out new, healthier ways over the long haul," writes Escobar in her new book, Practicing. "In God's economy, improvement isn't measured with words like more, bigger, or better, but rather by what's deeper, stronger, and more integrated."
Featuring ten transformational practices to challenge yourself to live out your faith with real, concrete action, Practicing: Changing Yourself to Change the World is the perfect book for those looking to practice their faith, not just talk about it. Practices include healing, listening, loving, including, equalizing, advocating, mourning, failing, resting, and celebrating. Throughout each chapter, Escobar inspires us to seek what we can do to live out a life that better matches with the values of our faith. "The world has never been in more need of a book like this," says John Pavlovitz, author of A Bigger Table and Hope and Other Superpowers.
With resources for individual or group discussion, Practicing is perfect for individual reflection or processing together in community. "Kathy's work is so vital, so needed in our current landscape as the church struggles to navigate a path forward that is healthy, life-giving, and truly an embodiment of good news," says Sarah Bessey, author of Jesus Feminist and Miracles and Other Reasonable Things.
Practicing is now available through Westminster John Knox Press.
Kathy Escobar is copastor of The Refuge, a Christian community and mission in North Denver. A trained spiritual director and group facilitator, Kathy is the author of Faith Shift: Finding Your Way Forward When Everything You Believe Is Coming Apart and Down We Go: Living into the Wild Ways of Jesus.