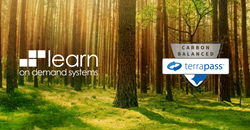 "As the leader of a global company, I have a lot of decisions to make," says Learn on Demand Systems CEO, Corey Hynes. "Deciding to offset our carbon emissions was an easy one."
NEW PORT RICHEY, Fla. (PRWEB) November 13, 2019
Learn on Demand Systems, a global leader in hands-on learning, announced that it has taken steps to reduce its impact on the environment.
For Learn on Demand Systems, being a technology company with data centers located around the world means leaving an energy footprint. While the company's entirely remote workforce means reduced emissions from fewer employee commutes, and its virtual employee meetings and online lab delivery mean less air travel, the company wanted to do more to reduce its impact on the environment.
Working with sustainability company Terrapass, Learn on Demand Systems purchased credits to offset 233 metric tons of carbon dioxide, one of the key gases that contributes to global warming. This will completely offset the impact of the energy consumption from their worldwide data centers.
"As the leader of a global company, I have a lot of decisions to make," says Learn on Demand Systems CEO, Corey Hynes. "Deciding to offset our carbon emissions was an easy one."
The move comes as NASA reports that carbon dioxide levels in the air are the highest they've been in the past 800,000 years. For millennia, the atmospheric level of carbon dioxide was never higher than 300 parts per million. Since 1950, that level is more than 400 parts per million.
Funds that Terrapass collects are contributed to sustainability projects, such as capturing and converting methane at abandoned coal mines into electricity and capturing and converting landfill gases into renewable energy.
"Because the projects Terrapass invests in are registered under the Climate Action Reserve (CAR) or Verified Carbon Standard (VCS), we can trust the transparency and quality of the offset projects," explains Hynes. "The decisions we make matter. We will continue striving to have the biggest impact we can have while reducing our footprint as much as we can."
About Learn on Demand Systems
Learn on Demand Systems, an Inc. 5000 company, empowers organizations to accelerate technology learning through hands-on experience and skills validation. A global leader in hands-on live learning, Learn on Demand Systems recognizes the challenges companies face to create and maintain engaging labs, workshops, courses and assessments that make technical concepts tangible across the globe. To address these challenges, the company offers a suite of products and services to develop, manage and deliver effective hands-on training, assessments and validation. To learn more, visit learnondemandsystems.com or follow Learn on Demand Systems on Twitter at @LodSystems.