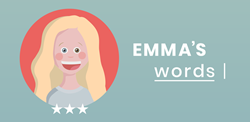 The most important part is to create your own exercises and review them thoroughly — that's where the learning happens.
MONTREAL (PRWEB) February 18, 2019
The Idea
Emma came home from her first day of elementary school with a long list of new words to learn. Her web developer dad figured there must be an app out there to make her homework a little more fun. Unable to find anything suitable, he decided to build her an app of her own: Emma's Words.
The idea is simple enough: help children learn the vocabulary they see in school — not just the words, but the expressions and verb tenses too. In the app, children create an exercise using words they've recorded in their own voice. Next, they review the words and take a quiz to test if they can spell what they hear. Throughout the game, Emma is there to encourage them and celebrate their success.
"The most important part is to create your own exercises and review them thoroughly — that's where the learning happens. That's why you have to go to the word list to begin the quiz," explains Jean-Pierre Fortin, creator of Emma's Words.
The Game
In order to advance in the quiz, each word has to be spelled correctly. After a mistake, the proper spelling is displayed on the screen and the child has to enter it in order to continue. Since there is no time limit, everyone can take the time they need to do their best.
Children and parents can also track their progress using the app, which stores the results of every quiz. The exercise summary shows the number of stars earned as well as the day and time that each quiz was completed. You can also see the results on a per-word basis, which helps to identify areas of difficulty. This app is not intended as a substitute for a parent, but rather as a tool to enrich the learning process.
The trial version of Emma's Words allows a maximum of three words or expressions per exercise. It is designed for children and parents to try it before buying the full version, which costs $5 USD for lifetime access.
Emma
Emma is there to provide a little extra support to a child while they study. Her smile brightens whenever she sees good spelling, and she frowns when she sees a mistake. The illustrations, based on photos of the real-life Emma, capture the spirit of the curious little girl who inspired the app.
"I wanted to make the best app that I could, without worrying about the time or the budget. I wanted it to be beautiful — something that would make kids excited to play and learn. I also wanted to offer it in as many languages as possible (we're up to nine so far!) so I could share this piece of Emma's story with other countries and other cultures. Most of all, I wanted to share it with my daughter, as a gift to accompany her as she begins her education but also as a snapshot of her in this moment. I couldn't help but sneak an Easter egg in there for her," he adds with a smile. "This whole project started because I wanted to teach my daughter her vocabulary but she ended up teaching me so much about how she learns."
Help video: https://youtu.be/8hFfJ3liiWQ
App Store: https://itunes.apple.com/WebObjects/MZStore.woa/wa/viewSoftware?id=1296325674&mt=8
Google Play: https://play.google.com/store/apps/details?id=ca.mercanti.mm
Website: http://emmaswords.com
Contact
Questions, comments, support : emmaswords (at) mercanti (dot) ca.