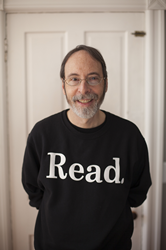 "I'm trying to write stories that are so captivating that kids will look up after an hour and feel like they'd been watching a movie in their head." Dan Gutman
PRINCETON, N.J. (PRWEB) February 19, 2020
Learning Ally, a leading nonprofit education solutions organization that transforms the lives of new and struggling learners through proven literacy solutions, is pleased to announce that they are giving students the opportunity to meet best-selling children's author, Dan Gutman as part of their on-going "Meet the Author" webinar series on February 27 at 1:00 PM EST.
Mr. Gutman is the author of more than 160 books for kids from kindergarten through middle school, including the wildly popular "My Weird School" series for beginning readers, the long-running "Baseball Card Adventures" series, and the New York Times Best-Selling "The Genius Files" series. His webinar, "There's Nothing Weird about Reading," will include an opportunity to ask questions, and is guaranteed to be a hit with students of all ages.
"We're so excited to have Dan as part of our Meet the Author webinar series," says Learning Ally Vice President of Educator Initiatives, Terrie Noland. "Dan has made it his goal as a writer to inspire reluctant readers to love reading, which aligns with our goal to help educators with effective programs and solutions that help struggling readers to succeed."
Dan himself says that he hated reading as a kid, so he tries to make reading his books feel effortless. He says, "I'm trying to write stories that are so captivating that kids will look up after an hour and feel like they'd been watching a movie in their head."
Dan has even prepared a message about his upcoming webinar: https://youtu.be/_lUcFfHorlc
The event coincides with Learning Ally's Great Reading Games, a nationwide reading competition that motivates struggling readers to read twice as much, three times as often. The games provide a great opportunity for teachers to excite and motivate struggling readers in a way where students can feel confident and engaged in reading.
Terrie Noland says of the event, "The Great Reading Games celebrates students' reading achievements; even students who struggle to read have a chance to win awards."
This webinar comes just as the Games are finishing and are the perfect way for schools to celebrate the students who just completed a marathon of reading success while bringing awareness to dyslexia and other reading struggles, across their entire school.
Register Today for the Webinar
There's Nothing Weird About Reading
With Dan Gutman
February 27 at 1:00 PM EST
https://learningally.zoom.us/webinar/register/WN_Nyg0f22-QKStuNy6Vj6Nuw
About Learning Ally
Learning Ally is a leading nonprofit education solutions organization dedicated to equipping educators with proven solutions that help new and struggling learners reach their potential. Our range of literacy-focused offerings for students Pre-K to 12th grade and catalog of professional learning allow us to support more than 99,000 educators across the US. The Learning Ally Audiobook Solution is our cornerstone award-winning reading accommodation used in more than 17,500 schools to help students with reading deficits succeed. Composed of high quality, human-read audiobooks and a suite of teacher resources to monitor and support student progress, it is designed to turn struggling readers into engaged learners.
For more information, visit http://www.LearningAlly.org.