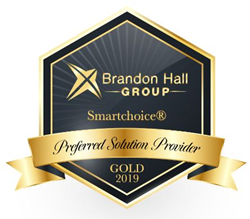 Learning Technologies Group has demonstrated that they can provide the technology, content and services that will help organizations complete the HR ecosystem necessary for positive business outcomes
DELRAY BEACH, Fla. (PRWEB) September 13, 2019
After an extensive review, Brandon Hall Group confirms that Learning Technologies Group is living its mission of offering end-to-end learning and talent management solution that enable corporate and government customers to close the gap between current and future workforce capability.
"The future of work lies with stronger synergies between business goals and talent management strategies," said Michael Rochelle, Chief Strategy Officer and Principal HCM Analyst at Brandon Hall Group. "Learning Technologies Group has demonstrated that they can provide the technology, content and services that will help organizations complete the HR ecosystem necessary for positive business outcomes."
The analyst team at Brandon Hall Group has spent years better understanding LTG as well as the market they operate in. The team has conducted in-depth briefings with the product teams, reviewed case studies and collected customer feedback to certify they deliver upon their message.
The program provides a world-class membership center for knowledge, resources and advisory support to the entire organization. During this time, Brandon Hall Group conducted a full review of LTG's product/service messaging and website, collateral marketing material, and social media strategy.
"When we started Learning Technologies Group just over five years ago, our aim was to lead the learning revolution at work. Half a decade later and we've grown rapidly to a portfolio of 10 best-of-breed companies that offer global organizations unrivaled support across all levels of learning and talent—from innovative and engaging solutions to strategic consulting and measurement," said Piers Lea, LTG's Chief Strategy Officer.
Brandon Hall Group has consistently been the leading independent analyst firm and confirms that LTG offerings measurably benefit the organizations they work with.
To learn more about Smartchoice® preferred vendors or to become one, please visit http://www.brandonhall.com/solution_providers.php.
About Brandon Hall Group Inc.
Brandon Hall Group is an HCM research and advisory services firm that provides insights around key performance areas, including Learning and Development, Talent Management, Leadership Development, Talent Acquisition and HR/Workforce Management.
With more than 10,000 clients globally and 25 years of delivering world-class research and advisory services, Brandon Hall Group is focused on developing research that drives performance in emerging and large organizations, and provides strategic insights for executives and practitioners responsible for growth and business results.
At the core of our offerings is a Membership Program that combines research, benchmarking and unlimited access to data and analysts. The Membership Program offers insights and best practices to enable executives and practitioners to make the right decisions about people, processes, and systems, coalesced with analyst advisory services which aim to put the research into action in a way that is practical and efficient. (http://www.brandonhall.com)
About Learning Technologies Group
Learning Technologies Group is a leader in the high-growth workplace learning and talent industry. The Group offers end-to-end learning and talent management solutions ranging from strategic consultancy, through a range of content and platform solutions to analytical insights that enable corporate and government clients to close the gap between current and future workforce capability.
LTG is listed on the London Stock Exchange Alternative Investment Market (LTG.L) and headquartered in London. The Group has offices in Europe, the United States, Asia-Pacific, and South America.
LTG's businesses—LEO Learning, gomo, Eukleia, PRELOADED, Rustici Software, PeopleFluent, Affirmity, Watershed, VectorVMS, Instilled LXP and Breezy HR—are at the forefront of innovation and best-practice in the learning technology and talent management sectors, and have received numerous awards for their exceptional performance. Our portfolio of brands represents the best of breed and they are acknowledged throughout the industry as market leaders.
For more, visit https://www.ltgplc.com/.