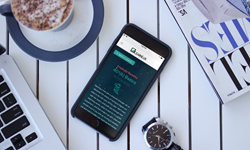 We're on a mission to democratize access to expert financial guidance, which will have positive impacts for generations to come. The truth is that everyone, no matter their income or net worth, deserves to be financially healthy. - Rebecca Liebman, LearnLux CEO
BOSTON (PRWEB) April 29, 2020
Fast Company Magazine has announced that LearnLux is a 2020 World Changing Ideas Award honoree for their high tech, high touch workplace Financial Wellness program. This recognition comes from a panel of esteemed judges tasked with identifying "brave concepts that make the world better." LearnLux was selected from a pool of 3,000 entries across transportation, education, food, politics, technology, and more.
"The LearnLux team is very honored to receive the World Changing Ideas recognition from Fast Company," says CEO Rebecca Liebman. "We're on a mission to democratize access to expert financial guidance, which will have positive impacts for generations to come. The truth is that everyone, no matter their income or net worth, deserves to be financially healthy. It's been inspiring to partner with innovative employers who believe in financial wellbeing, too."
To further support employers and individuals through the COVID-19 crisis, LearnLux recently announced the launch of a 3-month free financial wellness program to provide education, interactive tools, and access to unbiased Financial Advisors. Individuals can sign up for LearnLux here, while employers can email partner@learnlux.com for more information.
"There seems no better time to recognize organizations that are using their ingenuity, resources, and, in some cases, their scale to tackle society's biggest problems," says Stephanie Mehta, editor-in-chief of Fast Company. "Our journalists, under the leadership of senior editor Morgan Clendaniel, have uncovered some of the smartest and most inspiring projects of the year."
LearnLux is honored to join other World Changing Ideas Award honorees such as: IBM, Intel, Amazon, Fitbit, Google, and The Bill & Melinda Gates Medical Research Institute.
About LearnLux
LearnLux helps employers reduce financial stress in the workplace by offering employees a high tech, high touch financial wellness platform to take control of their financial lives. LearnLux blends digital lessons and interactive tools with on-demand Financial Advisors to provide independent holistic financial wellness for the modern workplace. Each company we serve enjoys custom lessons, a tailored benefits portal, advanced reporting, and affordable scalability. Our team of CFPⓇs are true fiduciaries - they never push products or take on personal clients. Our mission? To help employees make financial decisions out of education instead of fear. To learn more about LearnLux, visit learnlux.com.
About the World Changing Ideas Awards
World Changing Ideas is one of Fast Company's major annual awards programs and is focused on social good, seeking to elevate finished products and brave concepts that make the world better. A panel of judges from across sectors choose winners, finalists, and honorable mentions based on feasibility and the potential for impact. With a goal of awarding ingenuity and fostering innovation, Fast Company draws attention to ideas with great potential and helps them expand their reach to inspire more people to start working on solving the problems that affect us all.