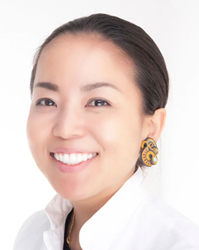 With skill and expertise in gum health, periodontists like Dr. Sato are ideal doctors to perform treatments that benefit both the function and aesthetics of gums and teeth.
SEATTLE (PRWEB) March 03, 2020
LeCuyer & Amato Dentistry is proud to welcome Dr. Shoko Sato to the practice. Dr. Sato offers her skills and experience as a periodontist in Seattle, WA to help patients with their gum health and overall smile aesthetic. Periodontists like Dr. Sato specialize in both the hard and soft tissues of the mouth, including the gums, jawbone and teeth. Dr. Sato joins brings this expertise to the practice, complementing the work of cosmetic dentists, Drs. Paul Amato, Chris LeCuyer, and Lauren Kopp.
Dr. Sato practiced as a general dentist for five years in her home country of Japan prior to attending the graduate periodontology program at USC in Los Angeles. She then furthered her education through a post-graduate program in periodontology and a master's degree in craniofacial biology at the Ostrow School of Dentistry of USC. These training and educational opportunities gave Dr. Sato a lot of hands-on experience to add to her existing dental skills.
With skill and expertise in gum health, periodontists like Dr. Sato are ideal doctors to perform treatments that benefit both the function and aesthetics of gums and teeth. A common treatment offered at LeCuyer & Amato Dentistry to improve gum health and aesthetics is a gum graft. The procedure involves taking a sample of gum tissue from the patient or a donor source and placing it over the area in the mouth where gums have receded. Once this tissue has been gently sutured onto surrounding gum tissue, the tooth roots are protected, and the smile aesthetics are restored. Having a periodontist perform these sensitive soft tissue treatments allows for impeccable results, fast healing and a highly comfortable treatment overall.
A gum graft is often used when gum health has been compromised due to gum recession. This is a common condition that causes the gum tissue to pull away from its natural position along the tooth and reveal the sensitive tooth roots underneath. When the tooth roots are not protected by gum tissue, teeth can feel loose, become sensitive to hot or cold beverages, and are at risk of decay from bacteria. Gum grafting helps protect these teeth and restore the natural gum line. Common causes of gum recession can include:

Aggressive tooth brushing
Smoking or tobacco use
Teeth grinding or clenching
Periodontal disease
Misaligned teeth
At LeCuyer & Amato Dentistry, the doctors specialize in all manners of cosmetic and restorative dentistry. Those interested in meeting Seattle, WA periodontist, Dr. Sato, or who would like to improve their oral and gum health, are encouraged to schedule an appointment at LeCuyer & Amato Dentistry by visiting their website at http://www.lecuyeramato.com or calling the office at 206-626-5400.
About the Doctors
LeCuyer & Amato Dentistry has brought industry leading cosmetic dentistry treatments to Seattle, WA for over 30 years. Dr. Paul Amato is passionate about his community and offers pro bono dental care through organizations like Jewish Family Services and the King County Dental Society. He actively attends continuing education courses to remain on the leading edge of his field, and has advanced training certifications from prestigious institutions including the American Academy of Cosmetic Dentistry and the Kois Center. Dr. Chris LeCuyer has over 30 years of experience in cosmetic dentistry and has lent his expertise to the Academy of General Dentistry and the American Dental Association. Dr. Lauren Kopp received her Doctorate of Dental Surgery from the University of Washington and regularly participates in continuing education courses to gain skills that will improve her patients' health. Dr. Shoko Sato brings her years of experience as both a dentist and a periodontist to this practice to offer leading gum disease treatments and thorough periodontal care. These esteemed doctors offer the most advanced treatments including the Bioclear Matrix, Invisalign®, and full arch dental implants. The team at LeCuyer & Amato Dentistry is committed to maintaining a standard of excellence in everything they do, providing the highest quality of care and precise results. To learn more about LeCuyer & Amato Dentistry and the industry leading cosmetic dentistry services they offer, visit their website at http://www.lecuyeramato.com, or call the office at 206-626-5400.