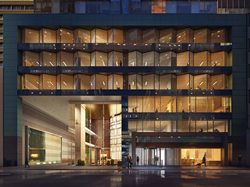 NEW YORK (PRWEB) November 01, 2019
Gregory Gang, Executive Managing Director/Principal, Catherine O'Toole, Executive Managing Director/Principal, Corey Abdo, Executive Managing Director/Principal, and Stephanie Moore, Senior Director, of Lee & Associates NYC, have been named the exclusive leasing agents for 12,790 square feet at 133 West 52nd Street, between Sixth and Seventh Avenues. The space is the entire fourth floor of this six-story property.
Designed by CetraRuddy, the newly constructed boutique asset property is known as Plaza 52. In addition to high ceilings and a new lobby, the building provides a full suite of amenities to its office tenants, including a state-of-the-art fitness facility, conference center and outdoor terrace with furniture.
"This building is a stunning example of modern design located in one of the most convenient parts of Manhattan," explains Gang. "The design elements and plethora of amenities make it perfect for a fashion or art gallery tenant. That's why we are marketing the space with the tag line 'Elegance Redefined."
The offices of Badgley Mischka, a fashion design house whose creations are worn by the likes of Rihanna, Sarah Jessica Parker and Jennifer Lopez, are currently housed on the entire fifth floor of the building. Part of the sixth floor has been leased to Titan Industries, which owns the footwear license for Badgley Mischka, Rampage, Wrapton, Zac Zac Posen and Splendid. 133 West 52nd Street is conveniently located approximately three blocks from the B, D, F, M, N, R and W trains. The 1, 2, C and E trains are also nearby.
About Lee & Associates NYC
The New York office of Lee & Associates provides a full array of corporate advisory and commercial real estate services, including office and retail brokerage, sales and investments, and project and property management. The firm has more than 90 real estate professionals in its 845 Third Avenue headquarters office. Additional information is available at http://www.leeassociatesnyc.com
About Lee & Associates
Lee & Associates is a commercial real estate brokerage, management and appraisal services firm. Established in 1979, Lee & Associates has grown its service platform to include offices in the United States and Canada. Lee & Associates provides superior market intelligence in office, industrial, retail, investment and appraisal to meet the specialized needs of our clients. For the latest news from Lee & Associates, visit lee-associates.com or follow us on Facebook, LinkedIn, Twitter and Link our company blog.