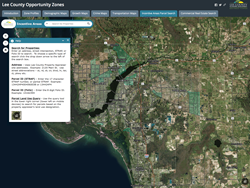 "The new Lee County Opportunity Zones website is a power house tool that brings together all the key data points for investors, developers and business owners who want to understand the incredible opportunity in Lee County's economic and business climate,"
FORT MYERS, Fla. (PRWEB) April 30, 2019
Lee County Economic Development has launched the area's first Opportunity Zones website at http://www.leecobiz.com.
Opportunity Zones are designed to spur economic development in economically-distressed communities where new investments, under certain conditions, may be eligible for preferential tax treatment. The Opportunity Zones incentive investment tool was established by Congress in the Tax Cuts and Jobs Act of 2017 to encourage long-term investments in low-income urban and rural communities nationwide. The country now has more than 8,700 Opportunity Zones in every state and territory.
"This interactive, multi-layered site is a new orientation by our office to use business intelligence and technology to provide the best information about Lee County to create a business environment focusing on current, existing businesses," said John Talmage, director of the Lee County Economic Development Office. "Now areas like North Fort Myers have the ability to attract investors from around the country who can breathe new life into our community by putting their capital to work financing new projects and enterprises in exchange for certain federal capital gains tax advantages."
In 2018, 15 census tracts throughout Lee County were designated as Opportunity Zones. These low-income census tracts are nominated by governors and certified by the U.S. Department of the Treasury.
For example, real estate tracts in North Fort Myers along both sides of Bayshore Road that make up the corridor connecting the area to I-75, as well as State Road 82 leading to Immokalee represent commercial opportunity zones for investors.
"The new Lee County Opportunity Zones website is a power house tool that brings together all the key data points for investors, developers and business owners who want to understand the incredible opportunity in Lee County's economic and business climate," said Josh Burdine, broker associate with Rockstar Realty and Royal Palm Coast Realtor Association president. "This is the future of integrated data we have been waiting for."
The website includes an overview with information about Opportunity Zones but more importantly lays out Lee County's zone profiles with in-depth information for Cape Coral, Lehigh Acres, Fort Myers, North Fort Myers and San Carlos. The site also has menus that dig into zone profiles with socioeconomic and demographic composition, education, income and age generations for each zone. Additional menus contain detailed information on growth and new business predictions, personal and property crime indexes, transportation including roads, railroads, airports, ports, traffic and an incentive area parcel search that will allow site selectors visitors to view a list of potential economic and regulatory incentives available at each location. The Commercial Real Estate Search menu will let anyone search for available office and industrial property that is for sale or lease.
"The website gives someone who has never been to Lee County all the information they need to know online to make an informed decision if they'd like to learn more about the Opportunity Zone benefits here," said Bev Larson, CCIM of Lahaina Realty and North Fort Myers Commercial Corridor Revitalization Task Force member. "North Fort Myers has been a diamond in the rough for years and just like Estero before it, it's prime for growth/revitalization and has everything one is looking for – waterfront, direct access to the interstate and plenty of land for residential development, office, retail, medical and more and the availability for residents to work and play where they live."
Investors in Opportunity Zones can defer tax on any prior gains invested in a Qualified Opportunity Fund (QOF). If the investor holds the investment in the Opportunity Fund for at least 10 years, the investor is eligible for an increase in basis of the QOF investment equal to its fair market value on the date that the QOF investment is sold or exchanged.
"Our nation's investors currently hold trillions of dollars in unrealized capital gains," said Talmage. "Stocks and mutual funds alone are a significant untapped resource for economic development. These funds can even enable a broad array of investors to pool their resources in Opportunity Zones, increasing the scale of investments going to underserved areas. It's a win-win for both the investor and the county and what better place to invest that Southwest Florida."
"There are other sites and resources that people can use to find Opportunity Zones information, but we think we have the first interactive site where investors, brokers and real estate professionals can go to find a site in Lee County, identify the incentives and entitlements, conduct market research and look for available sites," said Talmage. "And we are really proud and excited what this will do for our county."
The Lee County Economic Development Office provides business assistance to retain existing businesses, encourage entrepreneurship and attract new business so that Lee County has a strong economy, thriving communities a­nd broadly shared prosperity.
For more information, contact the Lee County Economic Development Office, (239) 338-6800 or email edo(at)leegov.com.
North Fort Myers Mixed Use Overlay video:
https://leecountybusiness.com/initiatives/develop-north-fort-myers/nfm-incentives
Contacts: Melinda Isley, APR, m.creativepr, 239-274-7736, cell: 239-565-1630, melinda(at)mcreativepr.com
Betsy Clayton, APR, CPRC, Communications Director Lee County Government
(239) 533-2221 or bclayton(at)leegov.com