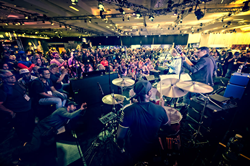 Jazz guitarist Lee Ritenour, drummer Dave Weckl and multi-instrumentalist Ellis Hall will be the highlighted acts on the Yamaha stage during the 2019 NAMM Show.
ANAHEIM, Calif. (PRWEB) January 21, 2019
Jazz guitarist Lee Ritenour, drummer Dave Weckl and multi-instrumentalist Ellis Hall will be the highlighted acts of many to appear on the Yamaha stage during the 2019 NAMM Show January 24-27. The Yamaha stage will be the centerpiece of the Yamaha booth in the Marquis Ballroom of the Anaheim Marriott Hotel, adjacent to the Anaheim Convention Center.
Grammy award-winning guitarist Lee Ritenour is a contemporary jazz icon with a career spanning 40 years. His career is highlighted by a Grammy Award win for his 1986 collaboration with Dave Grusin, Harlequin, and 17 additional Grammy nominations. At the NAMM Show starting at 3:15 p.m. on Friday, January 25, Ritenour will be sharing the stage with eight winners of the 2018 Lee Ritenour Six String Theory Competition, a global nonprofit music contest of his own devising, which attracts some of the most talented aspiring artists from around the world as contestants.
For more than 35 years, Dave Weckl has developed and maintained an international reputation as one of the great living drummers. Weckl's most famous early work is with the Chick Corea Elektric Band, with whom Weckl spent seven years; he also appeared with Corea's Akoustic Band, whose first release won him a Grammy award. As part of his NAMM performance at 5:25 p.m. on Thursday, January 24, Weckl will be showcasing a brand new Yamaha drum set to be unveiled on Day One of the show.
Ellis Hall, dubbed "The Ambassador of Soul," is a seasoned and accomplished soul, blues and funk vocalist. He is a songwriter, arranger, producer and educator, fluent in piano, keyboards, guitar and – his favorites – upright and electric bass. Hall will be the finale act on the Yamaha stage at NAMM, beginning at 5:20 p.m. on Saturday, January 26, where he will put numerous Yamaha instruments through their paces, including the just-released CP stage piano.
Also performing at 3:35 p.m. on Thursday, January 24 will be representatives of Guitars for Vets (G4V), a nonprofit organization that provides suffering veterans with lessons on the guitar and a forum to play as a means to heal and cope. Drummer and Yamaha marketing communications manager David Jewell will join G4V co-founder Patrick Nettesheim onstage with local program graduates, where they will cover classic hits such as "Knocking on Heaven's Door" and "Rockin' in the Free World."
Other musicians appearing on the Yamaha stage this weekend will be: EDM artist Plasmic, drummers Ray Levier and Sarah Thawer, composer/vocalist Tori Letzler, songwriter Joey Dosik, keyboardist Nicholas Semrad, vocalist/pianist Avery*Sunshine, Yamaha guitar clinicians Carl Tosten and Robbie Calvo, and guitarists AJ Rafael, Matteo Mancuso, Joseph Vincent, MJ Ultra and Alex Alexander. Each of the Six String Theory Competition winners will perform solo in addition to their ensemble with Lee Ritenour, and Mariachi Nuevo Tecalitlán, a 15-piece mariachi ensemble, will also be appearing onstage.
For a flavor of what these great musicians have to offer, visit the Spotify playlist here: https://yamaha.io/SpotifyNAMM19
For more information on Yamaha Corporation of America, visit usa.yamaha.com
About Yamaha
Yamaha Corporation of America (YCA) is one of the largest subsidiaries of Yamaha Corporation, Japan and offers a full line of award-winning musical instruments, sound reinforcement, commercial installation and home entertainment products to the U.S. market. Products include: Yamaha acoustic, digital and hybrid pianos, portable keyboards, guitars, acoustic and electronic drums, band and orchestral instruments, marching percussion products, synthesizers, professional digital and analog audio equipment, Steinberg recording products and NEXO commercial audio products, as well as AV receivers, amplifiers, MusicCast wireless multiroom audio systems, Blu-ray/CD players, earphones, headphones, home-theater-in-a-box systems, sound bars and its exclusive line of Digital Sound Projectors. YCA markets innovative, finely crafted technology and entertainment products and musical instruments targeted to the hobbyist, education, worship, music, professional audio installation and consumer markets.
Contact: Peter Giles/Giles Communications
(914) 644-3500 ext. 700 pgiles(at)giles(dot)com