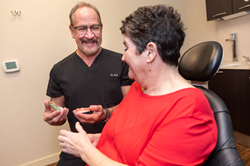 The most prevalent oral conditions are dental caries and periodontal diseases, and they are largely preventable.
ABILENE, Texas (PRWEB) December 09, 2020
Leedy Dental spreads awareness of the impact oral health has on the health of the entire body. Passionate about the health of their community, they are welcoming patients for oral health care in Abilene, TX with or without a referral. Leedy Dental offers a sanitized, comfortable, and respectful environment where patients can safely receive the oral health care they need in order to keep their immune systems strong and their overall health in optimum conditions.
A recent study from the American Dental Association (ADA) showed that a majority of dentists are seeing a rise in stress-related oral health conditions since the onset of the coronavirus pandemic. This includes periodontal disease (gum disease,) caries (cavities), bruxism (teeth grinding), and chipped and cracked teeth. Research also links gum disease with systemic conditions such as respiratory disease, heart disease, diabetes, and stroke.
The Centers for Disease Control and Prevention (CDC) also conducted a study on the impact of COVID-19 on oral health. This study states, "The mouth is indispensable to eating, speaking, smiling, and quality of life. The most prevalent oral conditions are dental caries and periodontal diseases, and they are largely preventable."
Although often treated as two separate entities, the doctors at Leedy Dental are encouraging their community to consider their oral health and overall health from a whole-body approach. In order to keep immune systems high and the entire body functioning as it should, the team at Leedy Dental insists that oral health concerns must be addressed as soon as possible. This highly experienced team offers general dentistry, laser dentistry for gum disease, and permanent dental implants.
For those experiencing symptoms of serious oral health concerns such as gum disease, the doctors offer minimally invasive treatments to lessen the number of appointments needed and help keep recovery times short. In the case of gum disease, Leedy Dental offers highly advanced laser dentistry, which precisely eradicates bacteria and unhealthy gum tissue while regenerating healthy tissue. For those whose diet is suffering due to decayed or missing teeth, these highly experienced doctors provide permanent dental implants, which look and function like natural teeth.
The team at Leedy Dental takes health very seriously and is doing everything in their power to keep patients safe and help stop the spread of COVID-19. The practice stays current with guidelines recommended by the CDC, ADA, and OSHA. They limit the number of patients in the office at one time, take temperatures at the door, and reschedule all patients with a fever of 99.5 degrees or higher.
Those experiencing symptoms related to oral health concerns in Abilene, TX can connect with the team at Leedy Dental for a consultation. To schedule an appointment, visit http://www.leedydental.com or call 325-268-0013.
About the Practice
Leedy Dental is a comprehensive dental practice located in Abilene, TX that specializes in full mouth rehabilitation and implant dentistry, as well as personalized dental care and cosmetic services. Drs. Robert Leedy, Sara Chen, Albert Park, and Jaci Campo, the team of experienced dentists and prosthodontists, are skilled in treating patients with dental phobias and those with severe dental problems. Their state-of-the-art practice is equipped with advanced and innovative technologies, an in-office dental laboratory, sedation services, and dedicated surgical suites for dental implant treatment. The practice founder, Dr. Leedy has over 35 years of experience treating patients with dental conditions that most dentists do not want to fix, helping them achieve life-long health and confidence. Dr. Leedy and his team remain at the forefront of dental care through advanced training and continuing education to provide the most specialized and modern treatments for their patients. To learn more about the life-changing services provided at Leedy Dental, visit http://www.leedydental.com or call the Abilene, TX practice at 325-268-0013.