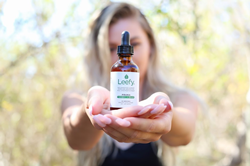 "We're doing our best to help those in the front lines who are putting themselves at risk every day to help all of us," Kuran added.
LOS ANGELES (PRWEB) April 27, 2020
Leefy Organics Will Participate In the Biggest Health Space Giveaway This Year on Instagram
In addition to donating their turmeric-based elixir PRANA to the medical community, Leefy Organics will be surprising some lucky social media followers.
Leefy Organics, maker of the great tasting, bioavailable turmeric and ginger supplement PRANA is joining forces with three other innovative products in the ultimate Instagram health and wellness giveaway. Sports Illustrated model and influencer Camille Kostek will host the event the week of Monday, April 27th choosing multiple winners.
Giveaway partners include health appliance innovator Tribest, contributing three $700 juicers; the indoor allergen air purifier Airdoctor, giving away two $650 air filters; and the at-home purified water system AquaTru, supplying one $300 water filter. Leefy Organics will surprise 20-30 winners with the signature PRANA elixir and some fun swag.
Brand founder and certified holistic nutritionist Carl Kuran is a fan of Kostek. As a Boston native, he admires the donation work she's been coordinating within his locale during this pandemic. Kuran was further inspired when Kostek and her significant other, former New England Patriots player Rob Gronkowski donated 10,000 masks to Boston area hospitals.
He has since launched his own initiative giving back to some hard-working medical professionals who could use some immune-boosting turmeric and ginger.
"My niece is an RN at a hospital in Ohio and we already sent 10 bottles to their team of nurses because we realized they need to boost their immunity," Kuran said.
"We're doing our best to help those in the front lines who are putting themselves at risk everyday to help all of us," Kuran added.
At a time when everyone is monitoring their health and immune system, PRANA is the only organic, non-GMO, vegan and gluten-free formula providing superior absorption of much-needed nutrients in an easy-to-take liquid form. The elixir is best known for combatting congestion, inflammatory pain and poor digestion among other ailments.
About Leefy Organics: Carl Kuran is the certified holistic nutritionist and founder of Leefy Organics. As a firm believer in holistic healing and a passion to help others heal themselves, his attention turned to his mother's health. She had such severe mucus congestion she couldn't breathe or sleep, and her doctors weren't finding a medical solution. While anti-inflammatory foods turmeric and ginger provided some relief, it wasn't enough. After research and experimenting with different formulations, Kuran came to a breakthrough in more effective turmeric absorption. This miracle formula later became known as Prana, the signature product of Leefy Organics.