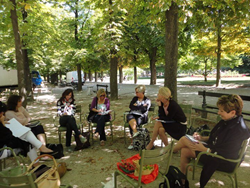 Paris is a great idea for writers ready to improve their skills and immerse themselves in a small-group writing workshop and literary travel experience.
DENVER (PRWEB) September 25, 2018
Eight writers, seven days, countless memories and many helpful techniques to inspire the literary work of all levels on Paris's Left Bank: this is the unique setting for the 10th annual Left Bank Writers Retreat taking place June 8 – 14, 2019. Writers participating in the small-group Paris writing workshop can look forward to breaking out of a writing rut and building momentum with daily classes and exercises focused around techniques developed by famous writers such as Ernest Hemingway, as well as touring the city's landmarks, parks, museums and the literary haunts of writing greats and former Paris expats Hemingway, Stein, Fitzgerald and more.
Predicted to be one of "9 Travel Destinations that will be huge in 2019" by Pure Wow, Paris, as the popular lifestyle website says, is always a good idea – and it's a great idea for writers who are ready to improve their skills and immerse themselves in a small-group writing workshop and literary travel experience that recharges and inspires the mind and soul this June on the Left Bank Writers Retreat.
The retreat, set to celebrate its 10th anniversary, is led by Darla Worden, an author and the editor in chief of Mountain Living magazine. Darla, who has been personally inspired by the works of Hemingway for decades, recently did a reading as part of a Hemingway Wyoming festival of her upcoming book The Dignity of the Iceberg: One Woman's Wyoming-to-Paris Search for Hemingway, about her experience following in the famous author's footsteps across two continents to create the Left Bank Writers Retreat.
Writers of the Left Bank Writers Retreat will also follow Hemingway's historical tracks, sipping wine, writing and discussing art, literature and life in the cafes he frequented during his time in Paris in the 1920s where he wrote The Sun Also Rises and Men Without Women – and that later served as the subject of his memoir A Moveable Feast. Other inspiring activities on the retreat include a boat cruise to the Eiffel Tower, a tour of Montmartre, visits to the Musée d'Orsay and Musée de l'Orangerie with stops at historic booksellers and daily cocktail hours.
Writers of all levels and genres are welcome for the 2019 Left Bank Writers Retreat, taking place June 8-14, 2019. The $1,999 tuition covers all expenses during the retreat from 9 a.m. to 5 p.m. daily (breakfast, lunch, admission fees and transportation around the city, as well as writing instruction classes and one-on-one coaching). Writers are responsible for their own airfare and lodging. A $500 deposit is required to register; writers who register by Oct. 31, 2018, can take advantage of the workshop's new payment plan. A full itinerary of expected weekly activities (subject to change) are listed here.
Writer Darla Worden lives in Denver, Colo., and Paris. Worden is Editor in Chief of Mountain Living magazine and has written widely for magazines and authored several books. She writes the popular blog Frenchophile and is currently working on a book about Hemingway's Paris. Now in its tenth year, the Left Bank Writers Retreat takes place on the historic Île Saint-Louis in the heart of Paris. For additional information, visit http://www.leftbankwriters.com.