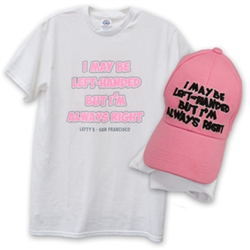 San Francisco, CA (PRWEB) May 10, 2017
Lefty's the Left Hand Store has a special Mother's Day offer for left-handed moms. The Left Hand Store is offering a free left-handed matching Hat and T Shirt with any purchase of $40 or more designed in pink for lefty women. Visitors to the site just need to place the Hat and Tee in their cart after placing $40 worth of other products, then enter the code LeftyMom at checkout. Offer good through Mother's Day, 2017.
What do Queen Victoria and Angelina Jolie have in common? Both are famous left-handed moms! Both the Queen and Angelina Jolie had many kids and large families despite their ultra busy lives. Another famous lefty mom, two-time Nobel Prize winner Marie Curie, had time for two daughters even though she was tragically widowed when they were young.
How can lefty moms manage it all?
Lefties are often good at multi-tasking, because they use both sides of their brains. In a left-handed brain, the right hemisphere is more highly developed than that of a right-hander, as this is where movement is controlled. For righties, movement is controlled in the left hemisphere. Yet, left-handers live in a world designed for right-handers, so they have to be able to use their right hands. Neural studies have documented that the connections between hemispheres are stronger in lefties, giving them quicker access to both sides of the brain.
The ability to multi-task is essential to being a successful mother. Lefties often have another useful trait for being a mother - a great sense of humor. Comedians, like lefty mom Tina Fey, are highly likely to be left-handed, with the percentage of left-handed comedians well above that of left-handers in the overall population.
Yet another useful lefty trait for a mom is the ability to plan ahead and think strategically, a leadership skill often found in great military and political figures. Famous leaders from Alexander the Great, Julius Caesar and Napoleon to Barack Obama and George H. Bush have been lefties.
Visit Lefty's online at http://www.leftyslefthanded.com, or at the retail stores in Pier 39, San Francisco, and Downtown Disney at Walt Disney World Resorts in Orlando.