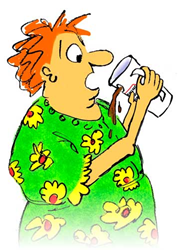 A great revenge mug for the lefty who loves to have fun.
San Francisco, CA (PRWEB) April 30, 2014
This video of Lefty's the Left Hand Store's Dribble Mug was a huge hit on Pier 39's Facebook page. The Dribble Mug works perfectly for left-handers, but drips all over a right-hander's shirt! Lefty's finally get a little revenge!
Lefty's the Left Hand Store on San Francisco's Pier 39 is the world's leading retailer of products specifically made for left-handed people. While most of The Left Hand Store's products are useful tools engineered particularly for left hand use, a few items are just fun gifts for lefties.
The Dribble Mug is the most popular of these - playing off the idea that no one believes a mug can be left-handed. When the mug is held in the right hand, a tiny hole drips the mug's contents down the front of the user. When held by a lefty, it works perfectly.
The Dribble Mug's real appeal is that it gives right-handers a tiny taste of the many irritations left-handers face when using right-handed tools - including common items like scissors, can openers, pens, and spiral notebooks.
Other fun gifts include a great selection of left-handed T shirts, printed with lefty sayings like "I May Be Left-Handed but I'm Always Right", and watches with mirror image faces and hands that rotate counter-clockwise (easier for lefties to read than righties).
Lefty's the Left Hand Store has retail shops on San Francisco's Pier 39, as well as in The Marketplace at Walt Disney World's Downtown Disney, and Old Town Kissimmee in Orlando, FL. Products are also available at http://www.thelefthandstore.com.