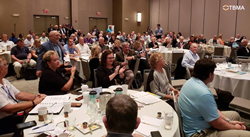 Keeping legacy timeshare resorts relevant and competitive were key topics on the highly interactive agenda at the Timeshare Board Members Association fall conference.
TENAFLY, N.J. (PRWEB) December 02, 2019
Keeping legacy timeshare resorts relevant and competitive were key topics on the highly interactive agenda that attracted more than 150 board members of resort owners' associations, resort managers and industry professionals.
The term "legacy" describes independent single-site resorts built or repurposed for timesharing approximately 35 years ago. Such resorts have aged, and so have their owners; they face a variety of challenges for non-profit timeshare owners' associations that are charged with governing and maintaining their properties.
Despite these problems, the tone of the Timeshare Board Members Association (TBMA) meeting was upbeat. Solutions exist. Here's a sampling presented at the conference:

Rewrite the governing documents. Most legacy resorts are organized as condominiums. Their governing documents were written at the dawn of timesharing, before developers knew what did or didn't work, and they may not comply with current state legislation.
Create new products. For people who won't make a lifelong commitment, some resorts are experimenting with shorter-term ownerships, typically three to five years. Maintenance fees are collected for the entire period at point of sale, which solves the collection problem. At the end of the ownership period, owners can renew or walk away. If they leave, the association owns their week and can resell it.
Explore future options. Some legacy resorts can thrive indefinitely. Others probably should repurpose to something else. Speakers noted that the underlying real estate may be more valuable than the timeshares. The boards of struggling associations were advised to explore conversion to whole-ownership condos, a mixed-use arrangement, or sale of the property for an entirely different purpose.
Reconcile rosters. A resort's board and management must know who its owners are. Maintenance-fee bills returned as undeliverable create a continuing bad debt that the remaining owners must cover. Speakers described how to research county records and conduct title searches to identify owners, pursue collection efforts, and foreclose if necessary, to return ownership of those units to the association for rental or resale.
Fund the reserves. Every resort should have a reserve account to stockpile funds for major capital expenses – new air conditioning, appliances, roofs, etc. A reserve study determines how much to save, how to allocate those funds, and when a capital item has reached the end of its useful life and needs replacement. Many legacy resorts do not have fully funded reserves. In those instances, they may impose unpopular special assessments, which can result in higher delinquency rates.
Alternate revenue sources. Because most legacy resorts are located in very desirable destinations, and offer condo-style accommodations, they are attracting rental guests and income through relationships with travel and vacation clubs.
Shep Altshuler, TBMA president, noted that the value of these conferences extend beyond the speakers' presentations. He explained. "Attendees from different resorts with similar challenges find solutions through education, networking and exploring solutions."
TBMA was formed in 2011. It holds annual fall and spring meetings at various U.S. locations. Information is available at http://www.tbmassoc.org.