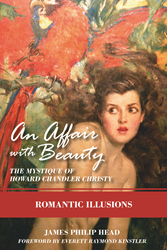 WASHINGTON (PRWEB) March 06, 2019
In An Affair with Beauty - The Mystique of Howard Chandler Christy: Romantic Illusions (March 3, 2019, North Loop Books, 9781545635278, $46) — the dynamic second installment of a three-part biographical series celebrating the illustrious career and epic life of legendary illustrator and portraitist Howard Chandler Christy—author James Philip Head once again immortalizes one of America's most famous and enchanting artists through the eyes of Nancy Palmer Christy, his wife and former model.
Romantic Illusions examines Howard Christy's early years in near-poverty in New York City as he was making a name for himself as an illustrator in the 1890s, up to the time when he chooses his new profession as a portraitist in 1921. During "The Great Flood of 1913" – the worst tragedy the Midwest had ever encountered – Christy describes his daring experiences with Teddy Roosevelt during the Spanish-American War in Cuba and his brush with near-certain death, no less than three times. The effects of the war profoundly transform Howard, inspiring him to create his vision of beauty, the "Christy Girl," which catapults him to fame and fortune. Later, Christy's iconic World War I posters compel men and women to join the effort or purchase liberty bonds.
Everett Raymond Kinstler, the foremost living portrait painter in America, honors Christy, his predecessor and friend, by penning the book's foreword which recalls the profound effect Christy had upon Kinstler and his art. Kinstler, who has immortalized with his painter's brush some of the greatest American men and women over the last 70 years including eight U.S. Presidents (his portraits of President Ford and President Reagan are the official White House portraits), ten Secretaries of State and more than fifty Cabinet members, went from high school dropout to painting a veritable who's who of American history and culture spanning the mid-20th to early 21st centuries.
An Affair with Beauty – The Mystique of Howard Chandler Christy: Romantic Illusions is now available wherever books are sold. The audiobook, narrated by 2016 Audie Award Finalist Pamela Almand of Atlantic Beach, FL, will be released this March (through Amazon, Audible, and iTunes.
.
About the Author
As a freshman at the University of Maryland, Jim Head discovered a gilt-edged folio of Charles Dana Gibson's The Social Ladder in the stacks of the campus library one night, starting him on a journey to learn more about Gibson and the "Illustrators of Beauty." In turn, he became captivated with the talent, fame and eventual obscurity of Howard Chandler Christy, and began amassing the largest private collection of information related to the artist and his wife, Nancy. Over the years, to reveal the true untold story, he has engaged research assistants, uncovered thousands of letters and newspaper articles, and traveled throughout the US to interview dozens of people, including family members, former models, and others who knew the artist and his family. Head is an attorney in Tysons Corner, Virginia where he concentrates in estate planning and trust and estate litigation. He lives in Chantilly, Virginia with his wife, Rita, and daughter, Christianna.
What People are Saying:
"An exquisite celebration honoring the life of Howard Chandler Christy, one of the most famous American artists and illustrators in the Jazz Era, this book is a piece of art in itself . . . . Howard Chandler Christy was a figure larger than life. By documenting this life in such a beautiful manner, the author does justice not only to Christy's legacy but to the art world and American history as well . . . . Romantic Illusions is a remarkable story and the author, James Philip Head, does an amazing job. Well-written, engaging, no – mesmerizing, the passion he has for his subject is undeniable." —Reader Views
"Christy was a highly sought-after portrait artist and rapidly rose to become the most popular commissioned artist of the era, capturing the likenesses of senators, congressmen, princes, industrialists and movie stars. His work hangs in the U.S. Capitol, White House, U.S. State Department, and many museums and state capitals throughout America. The lush and vibrant paintings that he did for the glamorous restaurant Café des Artistes (now the Leopard at des Artistes) still adorns the walls."—Forbes
"Christy's work set standards for beauty in the early 20th century that would become iconic." —The New York Daily News