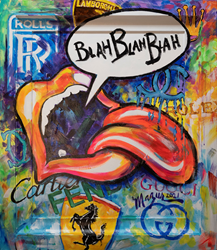 LOS ANGELES (PRWEB) November 23, 2021
On December 1st, legendary artist Ruby Mazur and multi-media company Cosmic Wire, in partnership with NFT platform Launchpad by Byt (creators of Neo Tokyo Parts 1, 2, and 3), will drop 5,050 AI-generated NFTs based on Mazur's iconic "Mouth and Tongue" originally used by the Rolling Stones on their "Tumbling Dice" record sleeve.
In addition, the original Mazur "Blah, Blah, Blah" canvas (oil and acrylic, measuring 33" x 39") and 1-of-1 NFT – a collaboration with artist and infamous designer Jim Evans (aka TAZ) who has worked with everyone from Quentin Tarantino to The Beastie Boys and Rage Against the Machine – will be available as part of the collection. Each of the 5,050 generated NFTs are based upon the layers of the original painting and 1-of-1 NFT created by the iconic duo. They will vary in both appearance and scarcity in this limited one-time-only release.
For More Info, Join Cosmic Wire's Discord HERE.
Music fans across the globe are familiar with Ruby Mazur's work. During the early part of his career in the '60s and '70s, he created over 3,000 album covers for musicians and film scores. He is perhaps best known for his immediately recognizable design of the iconic "Mouth and Tongue" artwork for the Rolling Stones' 1971 single, "Tumbling Dice" – the striking logo has been associated with the band ever since.
With its eye-popping mouth and tongue image surrounded by labels representing elite consumerism, "Blah, Blah, Blah" is reminiscent of Mazur's readily identifiable signature creation. Recalling the inspiration for the painting, the artist explains, "I was in a gallery one night during one of my exhibitions, and I heard this couple talking. The man goes, 'You know, I was going to bring the Rolls, but it was dirty. So I took the Lamborghini instead, and as I was getting in – son of a bitch – I scratched my Rolex!' He was definitely what we would call, 'new money.'
"He kept on like this, just bragging. As I listened to him, I just rolled my eyes back in my head, and all I could hear was, 'Blah, blah, blah…' I went home and immediately painted the piece."
Embellished prints of "Blah, Blah, Blah" quickly became huge sellers. "I take the oil-based print and I paint over it," Mazur says. "I sell them in different sizes, but everybody wants the big ones."
The hybrid NFT of "Blah, Blah, Blah" will certainly turn heads, as the animated mouth opens and a giant tongue shoots out and a voice growls, "Blah. Blah-blah-blah-blah..." Says Mazur, "It's really something else. With the animated digital version, it really comes to life."
Of the 5,050 generative "Blah, Blah, Blah" NFTs, Mazur says, "I think it's great that there will be all of these different variations of my painting. At most NFT auctions, we're talking about very sizable sums of money being exchanged. Here, we're offering lots of people the chance to purchase a generative NFT at a price they can afford."
Says Cosmic Wire CEO Jerad Finck, "We're so excited to be offering Ruby Mazur's original paintings alongside our NFTs of his work. I consider him to be the Andy Warhol of our time, he's pop culture personified. We're equally honored to be in business with the notoriously brilliant artist, Jim Evans. We were thrilled to have his artistic direction in collaboration with Ruby for the 1-of-1 NFT. He took 'Blah, Blah, Blah' in so many different directions, bringing it to life in his own way. Finally, it has been an amazing experience to collaborate with the ninja developers, Kaleb, and the rest of the Byt crew. The entire project just has coolness all over it."
For more information, please visit:
https://cosmicwire.com/
About Cosmic Wire
Authentic. Relatable. Credible. Aspirational. Cosmic Wire develops and brands iconic physical and digital IP through cutting edge technology and omnichannel marketing.
About Launchpad by Byt
Launchpad by Byt is a world-premiere, fully inclusive NFT launch platform that turns ideas into today's reality while helping pioneer the latest in smart contract technology. The Byt team is responsible for some of the largest NFT projects in existence, including Neo Tokyo Parts 1, 2 & 3, which currently have a market cap over $360 million collectively.