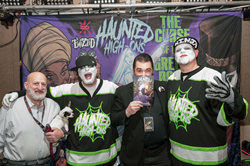 Monoxide recently shared with fans on Kickstarter, "It's like Ghostbusters meets the movie Black Sheep."
DETROIT (PRWEB) February 18, 2020
This past July, over six million viewers tuned into "The Boys," within the first ten days of debuting and ranked in the top ten, as "Best Shows to Watch on Amazon Prime." Three years prior, "Preacher" captivated audiences on AMC and went on for four strong seasons. The man, behind all of this success, Executive Producer, Ken F. Levin. Levin has his sights set on a new project, a comic book series based on alternative rap duo, Twiztid, called "Haunted High-On's."
"Haunted High-On's," a five book comic book series that follows the duo, Jamie Madrox and Monoxide, from Twiztid as they become ghost hunters. Monoxide recently shared with fans on Kickstarter, "It's like Ghostbusters meets the movie Black Sheep." Jamie Madrox adds, "It's funny, there's some hi-jinxs, the story will take you in a direction you didn't expect." This Kickstarter campaign was launched in October of this past year, to keep up with the reader demand. In fact, since the "Haunted High-On's" was launched at New York Comic Con in 2017, comic bookstores have had a hard time keeping copies on the shelf. The fans demanded more and Twiztid listened. The Kickstarter funded 300% over the original goal, leading the duo to create a collected edition graphic novel.
This past July, Levin and Twiztid met up at the San Diego Comic Con at an introduction made by writer of the comic, Dirk Manning. The group instantly connected. "We asked Ken to come to our show later in the evening after the convention, and he showed up, Madrox recollects. Not only did he show up, he stayed for the entire performance. We hung out after the show talking comics and TV. Monoxide adds, "Right there we knew this was the guy we needed to represent our beloved comic franchise."
"I'm very excited that NightSky Productions will have the chance to work with Twiztid, Manning, and the rest of the team developing "Haunted High-On's," for television and film, Levin shared. There's a reason Twiztid's music gets more popular every year and this is now reflected in the success of the comics as well. We're grateful to make this partnership happen."
"Haunted High-On's" is published by Michigan based company Source Point Press and distributed by Diamond Comic Distributors, Inc.
The development deal is already agreed upon and in the works.
High resolution images of "Haunted High On's", Ken F. Levin, and Twiztid are available upon request. Interviews are available with Levin and Twiztid.
********************************************************************
About Haunted High-On's:
WRITTEN by famous comic book writer Dirk Manning with Twiztid
ILLUSTRATED by Italian art duo, Marianna Pescota and Alessandro de Fornasari
EDITED by Drena Jo
PUBLISHED by Source Pointe Press
DISTRIBUTED by Diamond Comic Distributors, Inc.
AVAILABLE at your local comic shop. At the current time the comics are SOLD OUT across the country. Reprints are on the way.
ABOUT Ken F. Levin
Levin started 1FIRST COMICS in the 80's. Critics state, "This was the first comic book company that was successful since the inception of MARVEL."
Levin has been instrumental in the negotiation of big screen hits including Road to Perdition, WANTED, HELLBOY, HELLBOY II: The Golden Army and TV series, Sable and Painkiller Jane
Levin created NightSky Productions, and serves as Executive Producer of Amazon Prime's hit, "The Boys," and AMC's "Preacher."
Levin has been named, "One of the most 100 powerful people in comics."
Levin travels the world sitting on panels at the comic industries largest conventions
Levin started his career as a lawyer and maintains his law license
About TWIZTID
The Michigan based alternative rap duo just celebrated 20 years of performing.
This past year, the rap duo released, "Generation Nightmare," an album that double-charted on both Billboard's Hip Hop and Alternative sales charts.
The duo owns and operates their own record label, Majik Ninja Entertainment with distribution through INgrooves a Universal company.
The two have also created and co-produced, Astronomicon, a pop culture convention that celebrated their third year this past month.