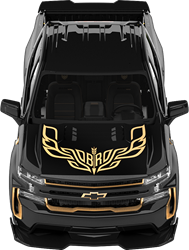 The new Bandit Truck by Legendary Concepts pays homage to Burt Reynolds and the legendary Bandit character he portrayed in the Smokey and the Bandit movies.
LAS VEGAS (PRWEB) November 02, 2021
Today at the 2021 SEMA Show in Las Vegas, Legendary Concepts debuted the Bandit Truck. Unveiled at the Toyo Tires Treadpass, the Bandit Truck pays homage to Burt Reynolds and the legendary Bandit character that he portrayed in the Smokey and the Bandit movies.
"We're bringing it full circle," said Jon Anderson, President of Legendary Concepts. "Burt really started this project back in 2016, and we've taken it to the next level with the new truck."
Resuming where Reynolds left off, the Bandit Truck is a modern interpretation of the 1977 Pontiac Trans Am featured in the movie, but in a street truck format. The base vehicle is a Chevy Silverado Crew Cab-based vehicle and is a complete build, including a bespoke widebody kit; aero and styling; custom-made, one-off wheels; and interior treatment. The 5.3-liter engine is blueprinted and built to a supercharged 707 horsepower.
"Burt would have loved seeing this come together," said Nancy Hess, Niece and executor of Reynolds estate. "He loved cars, especially cars with personality, and I think we have encapsulated all the right aspects of Burt's character in this truck."
Power
The most notable component in the Bandit Truck is the blueprinted 5.3-liter, V8 engine which will produce 707 horsepower and 641 foot-pounds of torque when paired with the all-new Magnuson DI supercharger system. Final exhaust notes are produced by a special Magnaflow system with dual-turndown exhaust tips behind each rear wheel.
Brakes, Wheels, and Tires
Working in conjunction with the wheel, tire, and MaxTrac suspension are the Brembo Monoblock 8-piston brake package which are an essential component of this 707-horsepower vehicle.
Rounding out the performance system on the Bandit Truck are the specialty 22" wheels which were developed and manufactured specifically for this vehicle. The modern, basket- weave-style wheels are wrapped with Proxes ST III rubber from Toyo.
Design
Building on the design elements from the Bandit Truck that Reynolds debuted in 2016, the new Bandit has a complete widebody kit, including new fenders, air dam, grille, hood, bedsides, and roll pan. These features have transformed this truck into a true street truck worthy of the Bandit nameplate.
Additional design components include forged carbon fiber styling for the front splitter, rockers, a rear spoiler and integrated rear-diffuser design. Adding to the Burt Reynolds authenticity is a hand-painted wreath hood graphic that pays direct homage and incorporates the BR initials. His initials flank a Seminole arrow—a nod to his college football alma mater.
Limited Production and Availability
To make the Bandit Truck available as a limited production, Legendary Concepts will work with Saleen to produce the vehicles as exclusive models and bring the first trucks to market quickly.
"We are honored to play a role in the Burt Reynolds automotive legacy," said Molly Saleen, President of Saleen Performance Parts. "The Bandit Truck program fits perfectly with the Saleen core skills of customization and specialty vehicle manufacturing."
Orders are now being taken through Legendary Concepts, and starting as early as January 2022, the first-production Bandit Trucks will be made available for delivery through Legendary Concepts and select dealers nationwide. For more information visit http://www.BanditTruck.com.
About Legendary Concepts
Legendary Concepts, based in Mt. Pleasant, TX, builds and manages a collection of past and modern-day vehicles with ties to legendary vehicle personalities.
About Saleen – The Specialty Vehicle Manufacturer
As a Specialty Vehicle Manufacturer since 1984, everything at Saleen is built from the ground-up by skilled hands. The Saleen staff consists of a wide range of designers, R&D engineers, and production members that work together to push the envelope of development, manufacturing, and certification of high-performance specialty vehicles. Saleen has done numerous of private label projects such as the Ford GT, Dodge Viper, and Chevrolet Camaro for the movie franchise Transformers.