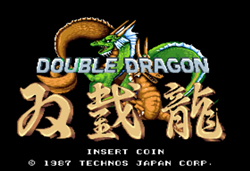 Having played Double Dragon as a child, this is an exciting announcement for myself and the iiRcade team
CHICAGO (PRWEB) May 26, 2020
iiRcade Inc., the ultimate home arcade platform provider that allows gamers of all ages to own and play their favorite retro and modern arcade games at home, is pleased to announce that the Double Dragon series, initially developed by Technōs Japan and officially licensed by Arc System Works, will be added to iiRcade's game library.
The series includes arcade versions of Double Dragon (1987), Double Dragon II: The Revenge (1988) and Double Dragon 3: The Rosetta Stone (1990). Double Dragon (1987) will come pre-loaded on each iiRcade machine while the other games in the series will be available for purchase in the iiRcade app store.
This is the first home arcade experience of the original Double Dragon series for gamers to play with an arcade controller, such as joysticks and buttons, which was only available at the game center or arcade center in the past.
Originally release as an arcade title in Japan in 1987, Double Dragon is considered to be one of the first successful game of the genre, resulting in the creation of several spinoffs, as well as inspiring other companies in creating their own beat 'em ups. The series follows martial arts brothers Billy and Jimmy Lee as they battle various rivals and street gangs.
"Having played Double Dragon as a child, this is an exciting announcement for myself and the iiRcade team," said Jong Shin, founder & CEO of iiRcade. "We're very grateful to bring the officially licensed classic 'beat 'em up' series to the home arcade."
iiRcade, which is set to launch pre-orders on Kickstarter soon with early bird pricing starting at $299, will be the ultimate home arcade product providing gamers with their favorite officially licensed modern and retro games. Unlike other arcade devices, iiRcade is not limited to a few pre-loaded games, new games can be purchased and downloaded through the online game store and software upgrades will be made available to the platform.
For more information and to keep up with product announcements, visit iiRcade.com.
About iiRcade
iiRcade is the ultimate connected arcade product for your home. Created by gamers for gamers, iiRcade integrates solutions that us gamers have always dreamed of. Immersive arcade gaming for home, legally licensed games with the real arcade experiences that we grew up with, not having to purchase more cabinets every time we want a new arcade game, small enough for homes yet big enough for comfortable game playing, never-before-seen experiences, affordable arcade gaming. iiRcade solves all these problems and provides the ultimate arcade solution that enables anyone to own the entire arcade at home.