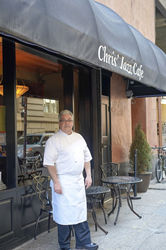 We've figured out how to adapt to an unprecedented global event and stay 'open' while preserving the legacy of Chris', which is synonymous with world-class musical entertainment.
PHILADELPHIA (PRWEB) July 22, 2020
The music will play again at Chris' Jazz Café! The legendary jazz club will become the first jazz venue in Philadelphia to livestream shows when it launches a series of weekly live concerts beginning on Saturday, August 1st. In a historic first for the region, the longest continuously operating jazz club in the City of Brotherly Love will now become the first to offer livestreaming to jazz lovers worldwide since it was forced to close its doors March 16th due to the Coronavirus.
"Never in a million years when I first took over the club in 2000 did I think we would turn a cozy, live music setting into a virtual event venue to be enjoyed by millions of jazz aficionados worldwide," said Chef/Owner Mark DeNinno. "But we've figured out how to adapt to an unprecedented global event and stay 'open' while preserving the legacy of Chris', which is synonymous with world-class musical entertainment."
Philly's go-to jazz destination has hosted some of the biggest names in jazz, but will now do it virtually after investing several months and $25,000 into transforming the stage and a portion of the venue into a state-of-the-art, high tech performance space complete with: a new lighting grid; four remote controlled HD cameras with state-of-the-art pan, zoom and tilt features; Dante software for the audio network (no conversion from digital to analogue and back which means viewers will get crisp, quality sound); new switcher and mics. "Unlike many other livestreams, where a static camera focuses on stage, for viewers watching at home it will feel like they are actually experiencing the show from the club as we'll utilize a multitude of camera angles, shots and effects." Watch this short teaser clip from a video about the club's transformation process here: https://drive.google.com/drive/folders/1pHYtthTEu2lOgpGoZAbw2A41vIDlGSBN?usp=sharing
DeNinno decided to kick off livestreaming by making the first two shows benefits for Philadelphia-based internationally beloved jazz guitarist Pat Martino (Patrick C. Azzara), who has not worked since November 2018 due to severe health issues. Martino is unable to play, is on oxygen 24 hours a day and is too weak to undergo a lung transplant due to a compromised immune system brought on by a long battle to recover from a debilitating brain aneurysm in the early 1980s. Friends and fellow musicians are rallying to help Martino pay his medical bills. "Pat's condition is not improving, and his financial situation is dire," explained his longtime manager Joe Donofrio. "But his outlook remains upbeat and inspiring, which is one of his endearing qualities."
Fundraisers on August 1st & 8th will pay tribute to the Philly musical legend, whose whole life has been his love for music and the people it touched. The Martino tribute livestreams are free to view, and donations are encouraged.
Here is the livestream lineup, which is a mix of well-known regional and international jazz superstars:
Saturday, August 1 — Pat Martino Tribute/Fundraiser
Saxophonist Eric Alexander and the Young Philadelphians (Joe Block, Byron Landham, Alex Claffy)
Saturday, August 8 — Pat Martino Tribute/Fundraiser
Guitarist Peter Bernstein & His Quartet
Friday, August 14
Vibraphonist Tony Miceli & His Trio, with Special Guest Vocalist Joanna Pascale
Saturday, August 15 — A Musical Tribute to West Side Story
Pianist Tim Brey & Special Guest Vocalist Chelsea Reed
Friday, August 21
Saxophonist Don Braden & His Organ Trio
Saturday, August 26 — Tribute to Jeri Southern
Vocalist Lucy Yeghiazaryan & Grant Stewart Quintet
Friday, August 28
Drummer Rodney Green & His Quartet
Saturday, August 29 — Sarah Vaughan Tribute
Vocalist Denise King & the Web Thomas Quartet
All shows begin at 8 p.m. and cost $5 to stream (with the exception of the two Pat Martino fundraisers, which are pay-what-you-want, free for anyone to attend virtually with promo code PHILLYJAZZ. For tickets and payment information, please visit https://www.chrisjazzcafe.com.