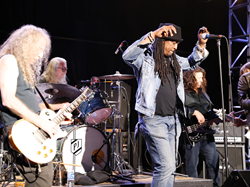 "Alert the Globe makes it easy to see the world LIVE", Roy Bittan - keyboardist for Bruce Springsteen and Board Adviser for Alert the Globe
VENTURA, Calif. (PRWEB) August 16, 2018
Alert the Globe Productions along with Discovery Ventura are proud to present an evening with the legendary Waddy Wachtel Band on August 18th. The performance begins at 9:00 pm at Discovery Ventura, located at 1888 E. Thompson Blvd, Ventura CA.
The evening's performance will also be available for viewing around the world LIVE courtesy of Alert the Globe at http://www.AlertTheGlobe.com
Waddy Wachtel is one of the most respected performers in the music industry. His career has spanned many years as a guitarist, producer and songwriter. Starting from his early days with Warren Zevon, Waddy went on to earn accolades performing alongside Linda Ronstadt, James Taylor and Jackson Browne to his current work with Keith Richards and Stevie Nicks, with lots of stops along the way.
The Waddy Wachtel Band has been performing since 2000 and includes some of the best known and most respected artists in the world today. Core members include Bernard Fowler (The Rolling Stones), Phil Jones (Tom Petty), Brett Tuggle (Fleetwood Mac), Al Ortiz (Stevie Nicks), Keith Allison (Paul Revere and the Raiders) and vocalist Jamie Savko. They frequently are joined by special surprise guests too, including Keith Richards, Robert Plant, Joe Walsh, Neil Young, Adam Sandler, Bobby Womack, Donovan, Eric Burdon, Leo Sayer, George Thorogood and many more.
AlertTheGlobe.com offers a unique and proprietary system that connects musicians and music lovers using a never before seen platform that offers instantaneous delivery to the world.
The All-Star group of Advisors who have been behind the AlertTheGlobe.com movement are Bernard Fowler, vocalist with The Rolling Stones; Waddy Wachtel, guitar legend and music director for Stevie Nicks; Roy Bittan, keyboard player for Bruce Springsteen's band; Greg Bissonette, drummer with Ringo Starr's band; Bunny Brunel, legendary bassist and Rob Shanahan, personal photographer to Ringo Starr just to name a few. "Our LIVE stream will change the way you see us and we see you," says Fowler.
Tickets to the Discovery Ventura can be purchased in advance, visit https://nightout.com/events/waddy-wachtel-band-at-discovery-ventura/tickets for more information.
Connect with AlertTheGlobe.com on social media; Facebook Fan Page at AlertTheGlobe, Twitter @AlertTheGlobe, and Instagram @alerttheglobe.
For media inquiries and interviews, please contact Kelly Bennett of Bennett Unlimited PR Kelly(at)BPUnlimited.com or (949) 463-6383.
About Alert the Globe: AlertTheGlobe.com was created to share music, promote brands and stream live high quality video and audio from stages all around the world. There are no borders concerning the interest and affinity for arts in all the varieties imaginable. Our mission is to bring the world together through music by connecting musicians live. For more information, visit http://www.AlertTheGlobe.com.