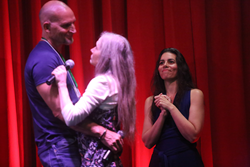 This event really does introduce you to what's possible in your relationships...and to what's possible with yourself.
BOULDER, Colo. (PRWEB) September 22, 2020
An unprecedented year continues to bring unprecedented changes, like turning a popular, sexy event that draws hundreds of people together each year into an online global classroom for erotic expansion.
The 7th annual "Path to Passion" event is a three-day opportunity for attendees to discover new worlds of pleasure and sexual satisfaction, and cultivate more connection and passion in their lives.
"This event really does introduce you to what's possible in your relationships – and introduces you to what's possible with yourself," says a man who participated in last year's event in Denver, which boasted more than 500 in-person attendees. Previous years' Path to Passion events were held annually in Los Angeles, where Jaiya Ma, the event's co-creatrix and renowned sexologist, works with many celebrity clients.
This year, Path to Passion will take place virtually, beginning at 11 a.m. ET on Friday, October 30, and ending at 8 p.m. ET on Sunday, November 1. The event will feature more than 50 acclaimed sex coaches and somatic healers from the U.S., Europe and Australia, coming together online to help singles and couples alike supercharge their sensual, sexual and kinky lives in the privacy of their bedrooms.
"We've gotten pretty savvy this year using online platforms to deliver an intimate and immersive experience," says Ian Ferguson, Path to Passion's co-creator and a master trainer of the Erotic Blueprint™ methodology. "Many people have shared that they find exploring this material at home feels safer and freer, and ultimately more rewarding, than being in a room with lots of other people."
Path to Passion Live 2020 will include online breakout rooms and smaller sessions for demonstrations and more in-depth discussion with experts. Participants' cameras will be required to stay on for the majority of the event to increase safety for participants.
"Our mission is to create a safer, ethical and consent-based space, where participants can gather within a global sex-positive community and explore how to realize their own orgasmic potential," says Ferguson.
THE EROTIC PERSONA COSTUME BALL
On Saturday night – Halloween – Ferguson will host a virtual dance party called the "Erotic Persona Ball," where workshop participants will be led through guided movement and DJ'd music as they explore their own deeply personal experiences of pleasure. Fun and frisky costumes are encouraged, but not required.
"Path to Passion is a PG, clothing-on event," says Ferguson. "But our language and themes are definitely NC-17. We do get racy, raw and real. We tell people: Prepare to feel turned on, and to feel some potential discomfort as you confront your sexual edge."
Previous years' participants can't praise the experience enough:
"Sex is an expression of who I am, and loving myself at a whole new level," says one woman featured on the highlight reel from last year's event.
"At Path to Passion, I suddenly felt home, felt real, felt understood – because I could really understand myself," says Dana S.
Registration is now open, with limited availability. Early Bird pricing is currently $297; ticket prices will rise to $397 on October 9, 2020.
ABOUT PATH TO PASSION
Path to Passion is an annual three-day event for couples, singles and people in alternative relationships to express who they are and explore how to create shame-free, healthy and pleasure-filled sex life. At Path to Passion, attendees discover how to get their sexual needs met by discovering their unique map of arousal and how to speak the language of Erotic Fulfillment: The Erotic Blueprint™.
To discover your own Erotic Blueprint™, take this free online quiz. For more information about the Erotic Blueprint™ framework, please visit the Jaiyalove.com.