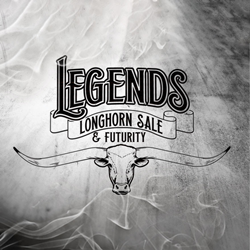 DUNCAN, Okla. (PRWEB) September 01, 2021
The Legends Longhorn Sale & Futurity, Texas longhorn industry's biggest fall sale & futurity event, returns to Duncan, OK on September 17-18, 2021 at the Stephens County Fair and Expo Center. The absolute best in Texas Longhorn genetics will be represented. The event is open to all to experience. Included in the event will be 25 of the top female longhorn heifers in the world on Friday, September 17 and 62 Texas longhorn cows with the most desired genetics anywhere on Saturday, Sept 18. In addition to the shows and sales, the weekend will also feature speakers and presentations regarding cattle health and nutrition.
Please find the full event schedule below:
Friday, Sept 17

All day cattle viewing
7:00 AM: Female futurity
1:00 PM: Merck Animal Health
2:00 PM: Two Bulls Mineral
3:30 PM: Heifer Awards
3:30 PM: Cocktails
5:30 PM: Legends Heifer Sale
Meal and live music to follow sale
Saturday, Sept 18
8:00 AM: Bull futurity begins
10:00 AM: Paragon Cattle Services
1:00 PM: Bull Futurity Awards & Viewing
1:30 PM: Breeders Roundtable
3:30 PM: Cocktails
4:30 PM: Legends Sale
Post-civil war, the Texas Longhorns were driven up the trail and then shipped back East via the railroad. In this amount of time, the breed was almost driven to extinction. With large English influence breed of cattle being integrated into the country for heavier carcasses and better average daily gains continued to hold the Texas Longhorns at bey. There were a handful of ranches that saw the importance of preserving this iconic breed and worked to save them. These 7 families are still recognized and their breed registry with all lines of cattle tracing back to them. In 1964, the Texas Longhorn Breeders Association of America was founded in Lawton, OK, which was later moved to Fort Worth, TX where it remains today.
The name for this event reflects the Legends that not only help preserve this breed, but also the Pioneers of yesteryear that helped build a fantastic nation that we still hold near and dear to our heart. It is with pride that we protect and preserve the legacy of a breed, the individuals that built it, and of a nation.
To view the online catalog for the event, please visit the Legends Longhorn Sale & Futurity online at https://www.facebook.com/LegendsSaleandFuturity/.