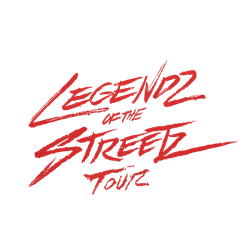 ATLANTA (PRWEB) January 20, 2022
Following its overwhelming success in 2021, one of hip hop's most iconic tours, Legendz of the Streetz, will return with nine of an expected 20 additional dates beginning Thursday, February 3, 2022, in Columbus, GA (full list of dates below). After a three-month hiatus due to the pandemic, the second leg of the Legendz of the Streetz Tour will feature performances by the biggest names in hip hop; Rick Ross, Jeezy, Gucci Mane, 2 Chainz, Fabolous, Trina, and DJ Drama.
Produced by We Are Live Entertainment, a leading live entertainment company, Legendz of the Streetz is guaranteed to be BOLDER in 2022. Collectively, the superstar lineup has produced hundreds of chart-topping hits over the past two decades; positioning this tour as one of the BIGGEST hip hop concerts to ever be produced. From hits that have become instant classics to official street anthems, performances from the iconic lineup yields nothing short of a high-energy cultural experience.
In 2021, the first leg of the tour yielded over 60,000+ attendees, with sold out crowds in Atlanta, Greensboro, Houston, and Dallas. Additionally, the iconic tour generated billions of impressions and rave reviews from hip hop enthusiasts and more.
Legendz of the Streetz is one of the first major tours to return in 2022, and We Are Live Entertainment is even more excited to produce this amazing show the second time around. The second leg of the tour will definitely have a BOLDER experience with a more elevated production, updated talent list, and each artist will be given more stage time.
Also, the health and safety is always top priority of each individual that is involved with the tour's experience. We Are Live Entertainment has dedicated time to improving and redefining the shows with COVID precautions for fans, artists, and staff that aligns with each arena's updated policies.
The second leg of the tour will include visits to the cities shown below, with more North American dates to be announced soon. The current tour schedule is as follows:
Legendz of the Streetz Tour Dates:
Thursday, Feb. 3, 2022 - Columbus, GA (Columbus Civic Center)
Friday, Feb 4. 2022 - New Orleans, LA (Smoothie King Center)
Saturday, Feb. 5, 2022 - Birmingham, AL (BJCC)
Sunday, Feb. 6, 2022 - Memphis, TN (FedEx Forum)
Thursday, Feb. 10, 2022 - North Charleston, SC (North Charleston Coliseum)
Friday, Feb. 11, 2022 - Tampa, FL (Amalie Arena)
Saturday, Feb. 12, 2022 - Miami, FL (FLA Live Arena, formally BB&T Center)
Saturday, Feb. 19, 2022 - St. Louis, MO (Chaifetz Arena)
Monday, Feb. 21, 2022 - Detroit, MI (Little Caesars Arena)
Press Credential Requests:
Press can request credentials to cover the Legendz of the Streetz Tour until Friday, January 28, 2022, 5pm EST. An official Legendz of the Streetz Tour "Press Credential Request" form must be submitted for press coverage consideration. For press inquiries and credential request questions, please contact India Hollis at india@10squaredagency.com and Angela Watts at angela@10squaredagency.com
About We are Live Entertainment:
We Are Live Entertainment ("WAL") is a national producer of live entertainment. We specialize in the global touring of today's biggest and brightest stars in music. Founded on a wellspring of industry knowledge and equipped with innovative marketing strategies, we are committed to providing fans and concert hopefuls with an unforgettable live music experience.
For more information visit http://www.weareliveent.com .