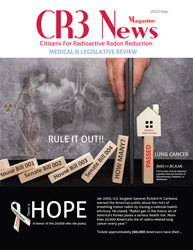 "Lex malla, lex nulla. A bad law is no law." ― Cassandra Clare, Lady Midnight
HENDERSONVILLE, N.C. (PRWEB) May 19, 2023
In Jan 2005, the U.S. Surgeon General Richard H. Carmona warned the American public about the risks of breathing indoor radon by issuing a national health advisory. He stated, "Radon gas in the indoor air of America's homes poses a serious health risk. More than 21,000 Americans die of radon-related lung cancer every year." Since 2005 when this warning was published approximately 360,000 Americans have died ...
The American Association of Radon Scientists and Technologists (AARST) Heartland Chapter which consists of Missouri, Iowa, Nebraska and Kansas, will join legislative colleagues and advocates from the radon industry to discuss the need to make radon testing and mitigation certifications mandatory in Missouri.
Radon is a radioactive, colorless, odorless gas that comes from decaying radium in the soil that can enter buildings through cracks in the foundation. Radon is the second-leading cause of lung cancer in the U.S., and #1 among never smokers. Children are particularly susceptible to radon exposure because of their developing lungs and growing bodies.
"Missouri is what I call the poor stepchildren regarding certification and licensing of radon contractors here in the mid-west. Iowa, Nebraska and Kansas all have some type of certification and several laws on the books in regard to licensing of radon contractors in their state, all tailored to the needs of the people of the state.
Missouri is the only state in the region without required radon licensing and certification and our goal is to change that. That is a given because the issues surrounding a non-licensing state are huge." says Jim Medley, Heartland Chapter President. "It creates issues with the quality of work that is done, (or lack thereof). As it stands now you could be selling bread on the street corner today and doing radon testing tomorrow."
Whether it is radon testing or radon mitigation it is important to have a level playing field. AARST National (American Association of Radon Scientist and Technologists) and the NRPP (National Radon Proficiency Program) has been working on and improving the national guidelines for more than 30 years. There are in place guidelines for testing and mitigating every type of structure there is in the United States. Most states that have licensing follow and use these professional guidelines.
"There are 100 more reasons why we need certification and licensing here in Missouri", says Medley, "but again, it boils down to protecting the customer and ensuring professionalism in the radon testing and mitigation industry. Our customers ... the people of Missouri, deserve nothing less."
DO THE ASK: https://joom.ag/FKHI/p12
#LungsWorkFromHome #f(eD)>>f(C,R,M)
CR3 News Magazine 2023 VOL 3: MAY -- MEDICAL & LEGISLATIVE REVIEW
Direct Link: https://joom.ag/wz6d
CR3 News Magazine Newsstand: https://newsstand.joomag.com/en?q=CR3+News+Magazine
Facebook: https://www.facebook.com/citizens4radonreduction.org
info@citizens4radonreduction.org
https://citizens4radonreduction.org
AARST Administrative Office
527 North Justice Street
Hendersonville, NC 28739
E-mail: info@heartlandchapteraarst.com
E-mail: info@nrpp.info or info@aarst.org
Office Telephone: (828) 348-0185