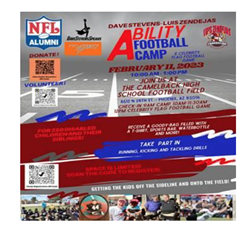 "Our Football Camp is a platform to teach athletes of all abilities "
PHOENIX (PRWEB) January 31, 2023
Dave Stevens, congenital amputee, who made NCAA college football and professional baseball history, announced today he is returning to home state of Arizona, where he started his inspiring high school and collegiate athletic career. Stevens and former NFL kicker; Luis Zendejas have partnered to host a ProStantz Ability football camp with NFL Alumni and a Celebrity friends game of flag football to benefit local charities in the disability's community on Saturday, February 11th at Camelback High school in Phoenix.
Stevens, a motivational speaker and host of the National podcast The Geary, Stein, and Stevens show - which is in the top 5% of all international podcasts - manages Ability Media at Quinnipiac University - Media and TV programming done for and by disabled students – 5 college students will join Dave at the Super Bowl to work and experience this mega sporting event. Dave will be live on "Radio Row" all week-long doing broadcasts and reports - marking his 40th year in TV and working at his 25th Super Bowl.
ProStantz Ability Football Camp and Celebrity Friends Flag Football Game
What: ProStanz Ability Football Camp & Celebrity Friends flag football game
Why: Camp & Celebrity All Star Flag Football Game to benefit disability's charities
When: Saturday, February 11th – camp registration 9am - camp starts 10am to 1130am – followed by NOON start to NFL Alumni & Celebrity Friends Flag Football game
Where: Camelback High School -main football field 4612 North 28th Street Phoenix, AZ 85016
Who: expected to appear former ESPN anchor Kenny Mayne, NFL Alumni include LeRoy Butler, Corey Sauter ,Nate Boyer and wounded military veterans
As an athlete, Stevens made NCAA history as the only double amputee to play three seasons of college football at Augsburg University from 1987-89. Dave also signed a spring training contract in 1996 and played three weeks of baseball with the St. Paul Saints. His teammates included MLB legend Darryl Strawberry and soon to be Hall of Fame pitcher Jack Morris. Stevens started one game at second base, and even pinch hit for Strawberry after a three-home run game. Stevens tried out for the Minnesota Twins in 1983 and 1984, as well as the Dallas Cowboys in 1990.
In 1995, Stevens left Hubbard Broadcasting (KSTP TV) for ESPN in Bristol, CT where he worked in various behind-the-scenes roles with SportsCenter and all its platforms. Dave's accomplishments include winning seven National Sports Emmy's during his 20- year career at the worldwide leader in sports.
Dave left ESPN in 2015, and for nearly a decade now is a full-time highly sought after national speaker, sharing his message about his amazing journey in life.
ATTENTION radio TV Editors & Show Producers - Dave and Luis Zendejas are available to be booked for live interviews all week in- studio or via zoom to share this inspirational story of perseverance and hope. To schedule you can call Dave direct @ 860.690.4877
About Dave Stevens Speaks: As a legless athlete and motivational speaker, Dave Stevens shares with audience of all ages on topics ranging from diversity and inclusion to achieving "impossible" dreams. His amazing and uplifting story has taken him around the world, from corporations to colleges, grade schools to arenas. His message is the same: You can do anything in life that you put your mind to, despite the odds. For more information, call Dave 860-690-4877 or visit Dave's web site at http://www.DaveStevensSpeaks.com.
###