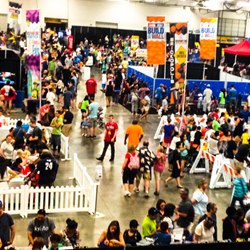 Oaks, PA (PRWEB) August 25, 2014
Philly Brick Fest comes to the Greater Philadelphia Expo Center September 12 – 14, 2014. Get inspired, educated, and entertained with LEGO bricks! Play with huge attractions built to set imaginations free and witness mind-blowing creations made entirely of this timeless toy at Brick Fest.
Participate at these hands-on building attractions and shop the largest variety of LEGO-themed merchandise under one roof.

Brick Fest Derby: Build and race your custom built LEGO derby car down a 35-foot long timed track
Inspiration Stations: Add to existing LEGO cities on display
Video Game Arena: Have a favorite LEGO video game? Challenge a family member or make new friends in the Brick Fest Gaming Arena
YouTube Celebrities: Meet popular YouTube LEGO show hosts from The Brick Show, Your Creative Friends (YCF), and more.
Mini Golf: A miniature golf course built to inspire!
Brick Fest Theater & Trivia: Watch some of the best LEGO brick films and participate in LEGO trivia all while taking a break from what will be an overwhelming amount of awesome!
Build Wall: At Brick Fest, art on the walls is allowed. With over 80-feet of wall space is covered in studs, attendees are encouraged to use bricks to build in three dimensions.
Mosaics: Using a colorful variety of 1×1 LEGO bricks, build a piece of art to proudly display for other attendees.
The Brick Zone: The Brick Zone is where imaginations run wild as builders are free to create anything they desire. Creativity shines while being surrounded by thousands of LEGO bricks of every shape and size.
Shopping: Find new, vintage, rare, and custom LEGO sets and merchandise from one of the many vendors in attendance.
Advance ticket purchase guarantees entry into the event.
Special ticket offers here.
For more information, visit:
Website http://www.brickfestlive.com
Facebook http://www.facebook.com/brickfestlive
YouTube http://www.youtube.com/yourcreativefriends
Instagram http://instagram.com/brickfestlive
More Brick Fest Live Dates and Locations: Maryland State Fairgrounds, Timonium, MD (Sept. 19 – 21), Duke Energy Convention Center, Cincinnati, OH (October 17 – 10), Palm Beach Convention Center, West Palm Beach, FL (December 5 – 7).
Learn With Bricks LLC is not associated with the LEGO® Group of Companies and is the independent producer of Brick Fest Live. Philly Brick Fest® is a Registered Trademark of Learn With Bricks LLC LEGO® is a registered trademark of the LEGO® Group.
© 2014 Learn With Bricks LLC.