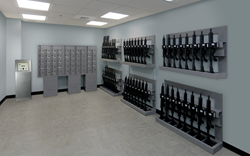 Auburn Hills, MI (PRWEB) September 24, 2014
LEID Products, LLC., the leader of electronic locker and cabinet storage with biometric asset protection and control, today announced its planned presence for the upcoming ASIS International Conference from Sept. 29 – Oct. 1 Atlanta, GA. LEID Products team of biometric and RFID technology experts will showcase its BACS Asset Management System, equipped with BACS Kiosk, Electronic Lockers, BACS Key Cabinet, SmartGuard Handgun Safe and Smart Rail Gun Rack.
The ASIS Conference, in its 60th year, will feature educational programs designed to be rigorous and demanding of its attendees, which allows the audience at all sessions to take away key lessons from the event that will directly benefit their professional work.
The industry leading BACS System protects assets including RFID tagged weapons, evidence and keys, restricting access to only approved users through biometric verification. The solution has been proven time and time again to be the most efficient and reliable way to secure and track critical assets for law enforcement departments, libraries, healthcare companies, airports and universities.
At the 2013 ASIS International Conference, LEID Products introduced its BACS Key Management offering, which addresses the critical need for secure key storage and access tracking. As part of the overall BACS System, LEID Products demonstrated the key management system at the conference to the many interested parties who stopped by on the show floor. The BACS Asset Management System, including key management, will again be available for live demonstration on request. Stop by booth number 3744.
"The ASIS International Conference is one of the most prevalent and advanced in the industry of asset security," said Sam Hoff, president, LEID Products. "Our team looks forward to attending the show each year to interact with other experts in the industries we serve, as well as provide demonstrations for our growing range of BACS solutions."
To register for the ASIS International Conference, visit: https://securityexpo.asisonline.org/Registration/Pages/default.aspx.
About LEID Products:
Law Enforcement Intelligent Devices (LEID), LLC is the manufacturing leader of electronic locker and cabinet storage with biometric asset protection and control. Originally founded to assist police departments in securing guns, weapons, radios, etc. through an electronic tracking and fingerprinting system, LEID products are also utilized to track books within a library system, medical supplies, laptops and even business documents to selected personnel. Their Biometric Access Control Systems (BACS™) streamlines operations and provides full accountability for critical business assets. For more information and demonstrations of our products, visit http://www.leidproducts.com.