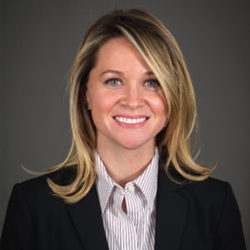 VIENNA, Va. (PRWEB) September 21, 2020
Production Solutions Inc., a Moore company and leading provider of performance-driven marketing solutions, announced today Leigh Janis, director of sales and brand strategy, is among the Marketing EDGE 2020 Rising Stars to be honored at the EDGE Awards event on Sept. 24, 2020. A nonprofit education organization, Marketing EDGE is committed to educating, developing, growing and employing college students in the field of marketing.
Each Rising Star honoree exemplifies outstanding leadership, innovation, creativity and a commitment to giving back through supporting marketing education. Janis is recognized for her branding and sales efforts, delivering the most successful sales record in recent company history. She pioneered revolutionary sales and branding strategies that pushed the team beyond their comfort zones and ultimately paid off with a 200% year-over-year increase in new client growth. Janis led the charge on executing a large-scale brand update for Production Solutions, ensuring each interaction, both internal and external, presents a unified brand voice. These efforts set Production Solutions and leaders on all levels up for an incredibly bright and successful future. She has also been an industry leader, helping steward three ANA Nonprofit Federation Conferences as a co-chair and serving on the Bridge Conference marketing committee since 2017.
"Be your own driver, ask for what you need and always look through a lens of learning," said Janis when asked about what it takes to be a rising star. "All challenges are ultimately learning opportunities, so look to the future with positivity and excitement! Pushing the boundaries of your comfort zone guarantees growth and long-lasting impact."
Production Solutions is one of the nation's largest and most comprehensive direct mail production management firms. The diverse expertise the company brings to direct mail is paired with one very distinct difference that keeps them ahead of the pack – a focus on people. Production Solutions is all about inspiring the people who work there, igniting their passion and growing the skills they bring to the table. The company's service commitment and purpose is to elevate experience, while showing care and dedication to clients and their critical missions. With an ultimate vision of inspiring more people to give, together, we can make more possible.
"Leigh is as an integral party in pioneering efforts to create solutions that elevate the experience of clients, including nonprofits and other organizations with vital missions," said Ben Harris, president of Production Solutions. "The passion she has for doing good, with and through others, is extraordinary. The heart and passion that Leigh brings to her work, and all of the relationships that she cultivates or leads for Production Solutions and our industry, shows that she is someone who truly cares deeply for the success and well-being of others and will do everything in her power to bring that vision to life."
For additional information about Marketing EDGE or the EDGE Awards, visit edgeawards.org.
About Production Solutions
Founded in 1987, Production Solutions has proudly served the nonprofit community for over 30 years. Beyond production management, we are also a Moore company and are able to engage with the suite of services from other best-in-class companies to maximize the potential of your program, including channel-specific specialties in direct mail, digital marketing, direct response television, caging and donation processing, video production and more.
About Moore
Moore is a global leader in performance-driven marketing solutions focused on all facets of the consumer experience. Comprised of 35 companies with more than 2,600 employees, Moore is dedicated to helping clients fulfill their missions. The organization provides services including strategic consulting, creative development, media planning and buying, research and analytics, production management and product fulfillment, database services and public relations to nonprofit, association, commercial and government clients, and is a key contributor to strengthening these sectors.