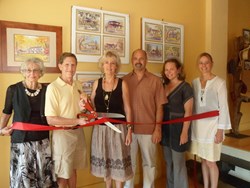 I am very happy to have so many wonderful people join me in celebrating the opening of my new studio
South Pasadena, Ca (PRWEB) September 09, 2013
Internationally recognized architectural artist Leisa Collins officially opened her beautiful new South Pasadena studio with a ribbon-cutting ceremony on Wednesday, August 21st. Leisa was joined in the ribbon cutting by a number of local dignitaries including the Mayor of South Pasadena Richard Schneider M.D.
Mayor Schneider was first elected to the City Council in March 2007. He is a member of numerous community groups, including South Pasadena Beautiful, the Friends of the South Pasadena Public Library, the South Pasadena Preservation Foundation, the California Native Plant Society, the Pasadena Audubon Society, Friends of the River, LA, the Los Angeles County Bicycle Coalition, the California Bicycle Coalition, the Wilderness Society and the California Mountaineering Club.
Joining the Mayor and Leisa were Annika Burman, a local artisan and representative of the South Pasadena Chamber of Commerce, and Barb Skoog, a local artist specializing in the Turkish form of marbling called Ebru. Leisa's mother Melva Collins, visiting from New Zealand, and her husband Bruce also participated. The elder Ms. Collins is an artist who also created architectural art in NZ and has been an ongoing inspiration for Leisa in her career.
Additionally in attendance were Scott Feldmann, the president of the South Pasadena Chamber of Commerce, and Bill Glazier, the editor of the South Pasadena Review weekly newspaper.
"I am very happy to have so many wonderful people join me in celebrating the opening of my new studio," enthused Leisa. "My husband Bruce and I love living in this area and close to the stores and restaurants and galleries of Mission St. and also love the 'small town' feel of South Pasadena which makes it a unique location in the LA area."
Leisa is the sponsor of the Leisa Collins Historic Preservation Award which she instituted back in March of this year. The purpose of the award is to recognize individuals rather than architectural restorations because it is the individual, the homeowner, the community leader who is the main cheerleader and caretaker for saving and preserving America's beautiful historic homes and buildings.
Five individuals from around the country so far have been recipients. They are:
Dave Muylle Of Lansing, Mi.
Julie Liska Of Chicago, Il.
Zell Millard Of Woodbine, Ia.
Diane Rueter Of Independence, Mo.
Theresa Pasqual Of Acoma Pueblo, NM.
Leisa's current project is a series of pen and watercolor paintings that depict the historic and endearing qualities of South Pasadena.
ABOUT LEISA COLLINS
A native of Auckland, New Zealand, Leisa Collins embarked on her artistic career in the late 1970′s. Abandoning the confines of formal art training, she opted to learn her craft by traveling across New Zealand and capturing its rugged beauty on her canvas. Her first architectural paintings were of historic homes and buildings in Auckland. She enjoyed a successful six-year career in New Zealand before traveling to California, where she met her Michigan-born husband and has since resided in the USA. In addition to her landscape and semi-abstract works, Leisa has painted hundreds of homes, buildings and street scenes in New Zealand, Europe and in 37 states across the USA. She loves to get involved in her local community, has spearheaded several public art projects and regularly holds solo shows. Leisa travels extensively -- painting wherever she goes – but majorly divides her time between California, Virginia, Michigan and New Zealand.