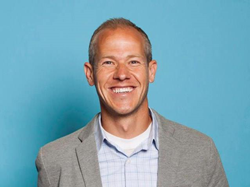 "It is a tremendous honor for Lendio to be recognized by EY alongside the most talented entrepreneurs in this region."
SILICON SLOPES, Utah (PRWEB) June 12, 2019
EY has chosen Brock Blake of Lendio as a finalist for its Entrepreneur Of The Year® 2019 Award in the Utah Region. Considered the most prestigious business awards program in the U.S., EY's award recognizes leaders of high-growth companies who are excelling in their respective fields and who demonstrate a personal commitment to their businesses and communities. Winners will be announced at an awards gala on Saturday, June 15, 2019, at The Grand America Hotel in Salt Lake City.
Blake, along with long-time friend and business partner Trent Miskin, founded Lendio to fulfill a passion for making access to capital simpler and quicker for entrepreneurs. Now the nation's largest business loan marketplace, Lendio has facilitated close to $1.5B in funding through more than 70,000 loans to business owners in all 50 states. Blake has also committed to helping underserved entrepreneurs in the developing world and beyond. For every loan facilitated on its marketplace lending platform, Lendio donates a percentage of funds to low-income business owners through Kiva. Lendio has provided more than 7,500 Kiva micro loans in 79 countries to-date.
"Entrepreneurship is challenging. It requires determination, embracing risk and not shying away from failure," said Blake. "Since founding Lendio eight years ago, one thing has kept me constantly motivated: a desire to help other business owners achieve their goals. It is a tremendous honor for Lendio to be recognized by EY alongside the most talented entrepreneurs in this region."
Now in its 33rd year, EY's Entrepreneur Of The Year® Program has expanded to recognize business leaders in more than 145 cities and more than 60 countries throughout the world. Regional award winners are eligible for consideration for the Entrepreneur Of The Year® National Awards, which will be announced in Palm Springs, California, on November 16, 2019.
About Lendio
Lendio is a free online service that helps business owners find the right small business loans within minutes. With a network of over 75 lenders offering multiple loan products, Lendio's marketplace is the center of small business lending. Bringing all options together in one place, from short-term specialty financing to long-term, low-interest traditional loans, our technology makes small business lending simple and decreases the amount of time and effort it takes to secure funding. For every loan facilitated on Lendio's marketplace platform, Lendio Gives, an employee contribution and employer matching program, donates a percentage of funds to low-income entrepreneurs around the world through Kiva.org. More information about Lendio is available at http://www.lendio.com. Information about Lendio franchising opportunities can be found at http://www.lendiofranchise.com.
About Entrepreneur Of The Year®
Entrepreneur Of The Year®, founded by EY, is the world's most prestigious business awards program for entrepreneurs. The program makes a difference through the way it encourages entrepreneurial activity among those with potential and recognizes the contribution of people who inspire others with their vision, leadership and achievement. As the first and only truly global awards program of its kind, Entrepreneur Of The Year® celebrates those who are building and leading successful, growing and dynamic businesses, recognizing them through regional, national and global awards programs in more than 145 cities and more than 60 countries. ey.com/eoy
About EY
EY is a global leader in assurance, tax, transaction and advisory services. The insights and quality services we deliver help build trust and confidence in the capital markets and in economies the world over. We develop outstanding leaders who team to deliver on our promises to all of our stakeholders. In so doing, we play a critical role in building a better working world for our people, for our clients and for our communities. EY refers to the global organization, and may refer to one or more, of the member firms of Ernst & Young Global Limited, each of which is a separate legal entity. Ernst & Young Global Limited, a UK company limited by guarantee, does not provide services to clients. For more information about our organization, please visit ey.com.