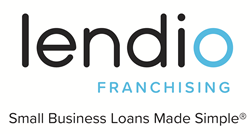 "Lendio's franchise owners are dedicated to helping lift small business owners in their communities."
SILICON SLOPES, Utah (PRWEB) August 13, 2019
Lendio Franchising, the nation's first marketplace lending franchise program, announced today it has facilitated $50 million in loans to over 1,800 small businesses around the U.S. These loans provide a boost to small businesses in industries ranging from healthcare to trucking, with an estimated economic impact of $165,505,834 across local economies.
Lendio Franchising complements the company's core value of making small business loans simpler and more accessible to small business owners across the country. Started in March 2017, the program has grown to include 33 franchisees in 62 territories across the nation. For two years running, Lendio Franchising has been named the #1 Business Financial Services brand in Entrepreneur's Franchise 500®.
Lendio franchisees facilitate access to small business growth capital through a wide range of loan options backed by the nation's largest business loan marketplace. Furthermore, through strategic partnerships with community banks and local SBA lenders, these franchisees provide a more localized approach to lending.
Often, geographic restrictions and misconceptions about traditional lending prevent small business owners from being able to access funds. Lendio franchisees understand and are invested in their local business markets, and can help business owners overcome these challenges. Franchisees like Luis Salazar, owner of Lendio North Florida, are uniquely able to address the capital needs of small business owners in their communities face-to-face, while utilizing Lendio's simple online application process.
"Entrepreneurs to me are the epitome of the American dream—people that make something out of nothing but pure grit and determination," says Salazar. "These are the small business owners I get to meet and help grow every day."
Since Lendio Franchising began funding small businesses, the demographics of borrowers have evolved. Applicants on average are getting younger: the percentage of borrowers between the ages of 25 and 34 has increased faster than any other age group. Newer businesses also are being funded more regularly, with the average time in business dropping from 11 years to just under eight. Women-owned businesses still represent only 25% of all borrowers funded. However, the number of female loan applicants increased by 89% in the last two years, while the number of male applicants grew by 75%.
"Lendio's franchise owners are dedicated to helping lift small business owners in their communities," said Mark Cottle, Executive Vice President of Franchising at Lendio. "Their understanding of local business trends, needs and strengths combined with access to Lendio's extensive lender network is what has led to this funding milestone in such a short amount of time."
About Lendio
Lendio is a free online service that helps business owners find the right small business loans within minutes. With a network of over 75 lenders offering multiple loan types, Lendio's marketplace is the center of small business lending. Bringing all options together in one place, from short-term specialty financing to long-term, low-interest traditional loans, our technology makes small business lending simple and decreases the amount of time and effort it takes to secure funding. For every loan facilitated on Lendio's marketplace platform, Lendio Gives, an employee contribution and employer matching program, donates a percentage of funds to low-income entrepreneurs around the world through Kiva.org. More information about Lendio is available at http://www.lendio.com. Information about Lendio franchising opportunities can be found at http://www.lendiofranchise.com.