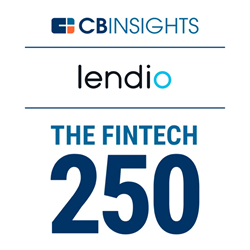 "It's an honor for Lendio to be listed among the innovative companies driving the fintech industry forward."
SILICON SLOPES, Utah (PRWEB) October 24, 2018
CB Insights today named Lendio to the second annual Fintech 250 list, a prestigious group of emerging private companies working on groundbreaking financial technology.
"It's an honor for Lendio to be listed among the innovative companies driving the fintech industry forward," said Brock Blake, Lendio CEO and founder. "Lendio is doing its part to power the economy by bridging the financing gap for small businesses. We are committed to shaping the future of marketplace lending to help business owners unlock their financial potential."
Lendio, the nation's leading marketplace for small business loans, recently announced it has facilitated over $1 billion in financing to more than 51,000 small businesses across the U.S. Through access to this growth capital, Lendio's small business customers have generated an estimated $3.8 billion in gross economic output and created more than 25,000 jobs nationwide. Lendio's milestone comes after an 80 percent increase in loans funded through its platform in the last year.
The CB Insights research team selected the Fintech 250 companies based on several factors including data submitted by each company and their Mosaic Score. The Mosaic Score, based on CB Insights' algorithm, measures the overall health and growth potential of private companies. Through this evidence-based, statistically-driven approach, the Mosaic Score can help predict a company's momentum, market health and financial viability.
"After we named the inaugural Fintech 250 in 2017, they went on to raise $23B including 30 rounds of over $100 million. Twenty-two of the Fintech 250 have already exited with half via IPO. This year, we've added 113 new companies to the Fintech 250 using the CB Insights Mosaic algorithm, and the group is broad, covering everything from insurance tech to consumer banking to capital markets tech. We look forward to the success of this year's group," said CB Insights CEO Anand Sanwal.
Quick facts on the 2018 Fintech 250:

30 of the Fintech 250 companies have reached a unicorn valuation of $1B or more.
Since 2017, these 250 private companies have raised $31.8B across 373 deals.
There were 82 $100M+ mega-rounds to the Fintech 250 since 2013, with 33 of them in 2018 year-to-date (YTD).
113 new companies were introduced to the 2018 Fintech 250 list.
44% of the 2018 Fintech 250 list are based outside the United States, representing 31 countries.
Ant Financial is the most well-funded company on the Fintech 250 list, having raised approximately $19.1B across 4 investments.
The Fintech 250 Companies (in alphabetical order):
10x Future Technologies
Acorns
Addepar
Affirm
Airwallex
Alan
Alpaca
AlphaFlow
Ant Financial Services Group
AvidXchange
Axoni
BIMA
Bankin'
Behalf
BehavioSec
Behavox
Bench Accounting
Better Mortgage
Betterment
Bill.com
Billtrust
Binance
BioCatch
BitGo
BitPesa
Blend
Blooom
BlueVine
Branch International
Bread
Brex
Bright Health
Brighte
C2FO
Cadre
Canopy Tax
Capital Float
Capitolis
Carta
Cellulant
Cgtz
Chainalysis
Chime
Circle Internet Financial
CircleUp
ClauseMatch
Cloud9 Technologies
CloudMargin
Clover Health
Coalition
Cobase
Coinbase
Coins.ph
Collective Health
CommonBond
ComplyAdvantage
ContaAzul
Credit Karma
CreditMantri
Creditas
Cross River Bank
Dataminr
Dave
Deposit Solutions
Digit Insurance
Divvy
Earnin
Elefant
Equidate
Ethos
Even Responsible Finance
Ezetap Mobile Solutions
Fair.com
Fenergo
First Circle
Flywire
Folio
ForUsAll
Forter
Fundbox
Funding Societies
Futu Securities
Gimi
GoCardless
GoFundMe
Greenlight Financial Technology
Groundspeed Analytics
Guideline
Gusto
Habito
Handle Financial
Harbor Platform
Hippo
Hometap
Human Interest
Hypur
ID Finance
IEX Group
Ice Kredit
IndiaLends
Invoice2go
JD Finance
JUMO Marketplace
Justworks
Juvo
Kabbage
Kantox
Kasisto
Kissht
Klarna
Kyriba
LTSE (Captable.io)
Ladder
Lakala Payment
Ledger
Lemon Way
Lemonade
LendInvest
LendKey Technologies
LendStreet
LendUp
LendingHome
Lendingkart
Lendio
Leveris
Lianlian Pay
Lu.com
MarketInvoice
Marqeta
Meniga
MetroMile
MoMo
MobiKwik
Money Design (THEO)
MoneyLion
Monzo
N26
Namely
Nav
Neighborly
Neon Pagamentos
NerdWallet
New York Shipping Exchange
Next Insurance
Nova Credit
Nubank
One97 Communications
Onfido
OpenFin
Origami
Oscar Health
PINTEC
Paga
Payoneer
Paystack
Paytm Payments Bank
PeerStreet
Personal Capital
Petal
Pine Labs
PingPong
Plaid Technologies
PolicyBazaar
Policygenius
Previse
Prodigy Finance
Progressa
Propel
Prospa
Q4
Qapital Insight
Quovo
Raise Labs
Raisin
Rally Rd.
Razorpay
Receipt Bank
Reonomy
Revolut
Ripple Labs
Riskalyze
Robinhood
Roofstock
Roostify
Root Insurance
SFOX
SalaryFinance
Satispay
Scratch Services
Sift Science
SigFig
Signifyd
Silverfin
SmartHR
Snapsheet
SoFi
Spruce Holdings
Stash Investments
Stocard
Stripe
Symphony Communication Services
SynapseFi
Tala
Tiger Brokers
Tink
Tipalti
Toast
ToneTag
Toro Investimentos
TouchBistro
TradeIX
TradeIt
Tradeshift
TransferWise
TravelBank
TruValue Labs
TrueAccord
TrueLayer
Trumid
Tyro Payments
Uala
UiPath
Unison
Upgrade
Upserve
Veem
Venminder
Viva Republica
Wacai
Wave Financial
WeCash
WeLab
WealthNavi
Wealthfront
Wealthsimple
Wefox
WorkFusion
WorldRemit
Xapo
YapStone
YellowPepper
Yoco
ZestMoney
Zoona
bitFlyer
bob
eToro
freee
iyzico
nCino
About CB Insights
At CB Insights, we believe the most complex strategic business questions are best answered with facts. We are a machine intelligence company that synthesizes, analyzes and visualizes millions of documents to give our clients fast, fact-based insights. Serving the majority of the Fortune 100, we give companies the power to make better decisions, take control of their own future and capitalize on change.
Contact:
Hyeri Kim, PR Manager
hkim(at)cbinsights(dot)com
+1 212-292-3148 ext. 3020
About Lendio
Lendio is a free online service that helps business owners find the right small business loans within minutes. With a network of over 75 lenders offering multiple loan products, Lendio's marketplace is the center of small business lending. Bringing all options together in one place, from short-term specialty financing to long-term, low-interest traditional loans, our technology makes small business lending simple and decreases the amount of time and effort it takes to secure funding. For every loan facilitated on Lendio's marketplace platform, Lendio Gives, an employee contribution and employer matching program, donates a percentage of funds to low-income entrepreneurs around the world through Kiva.org. More information about Lendio is available at http://www.lendio.com. Information about Lendio franchising opportunities can be found at http://www.lendiofranchise.com.