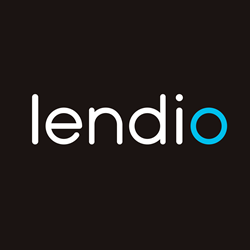 At Lendio, we want business owners to understand and have a big-picture view of their capital options.
SILICON SLOPES, Utah (PRWEB) August 06, 2019
Lendio today announced it has facilitated more than $1.5 billion in financing to small businesses across the U.S. Lendio was founded in 2011 by Brock Blake and Trent Miskin. The company has since become the nation's largest small business loan marketplace, with more than 75 of the nation's top lenders on its platform and more than 75,000 small business customers and growing.
The conventional business loan application process can be both daunting and time-consuming, especially for the smallest of businesses. Lendio's 15-minute online application gives business owners access to multiple lenders with offers suited to meet their capital and business needs. Furthermore, Lendio's matching algorithm facilitates a more streamlined underwriting process for its lending partners as they seek to make informed decisions about applicants' creditworthiness.
"At Lendio, we want business owners to understand and have a big-picture view of their capital options. We also want to help them evaluate how financing can be a critical investment to improve their business productivity," said Brock Blake, CEO and founder of Lendio. "We look beyond immediate transactions with our customers. Lendio works with them to establish the best path to growth and future financial health for their businesses."
In the U.S., where the traditional lending system hasn't evolved to meet the capital needs of the nation's smallest businesses, non-bank lending has been on the rise. According to the Federal Reserve Banks' 2019 Small Business Credit Survey, "applications to online lenders continued to trend upward" last year, with 32% of applicants turning to online lenders, up from 24% the previous year.
"Online lending options are becoming more attractive to small businesses," said Blake. "There are more players in the non-traditional lending space offering more sophisticated credit solutions to small businesses than ever before. Lendio aims to inform business owners of these options that aren't just there to help them get by, but to help them expand and scale."
One such customer is Sasha Rowe. As a new mother faced with the dilemma of going back to work or staying home with her newborn son, she solved the problem by starting her own business. Rivvly, Inc. offers specialized virtual assistants, high-volume remote staffing and personal branding for executives. The company's business model is unique, and it didn't fit within the confines of traditional lenders' approval criteria when Rowe needed financing. She came to Lendio looking for working capital and secured a loan to fit her business' needs.
"When I found Lendio, I was hopeful, but not expecting to hear anything different from what I had in the past," said Rowe. "But I filled out the form online and was contacted the same day. From that initial conversation, my expectations were already far exceeded. They worked hard to understand the foundation and goals of Rivvly and then went to bat for us to secure the capital we needed to grow."
For more information about Lendio, visit http://www.lendio.com.
About Lendio
Lendio is a free online service that helps business owners find the right small business loans within minutes. With a network of over 75 lenders offering multiple loan types, Lendio's marketplace is the center of small business lending. Bringing all options together in one place, from short-term specialty financing to long-term, low-interest traditional loans, our technology makes small business lending simple and decreases the amount of time and effort it takes to secure funding. For every loan facilitated on Lendio's marketplace platform, Lendio Gives, an employee contribution and employer matching program, donates a percentage of funds to low-income entrepreneurs around the world through Kiva.org. More information about Lendio is available at http://www.lendio.com. Information about Lendio franchising opportunities can be found at http://www.lendiofranchise.com.