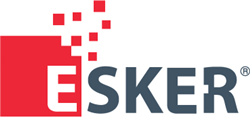 LYON, France, and MIDDLETON, Wis. (PRWEB) October 20, 2020
Esker, a worldwide leader in AI-driven process automation solutions and pioneer in cloud computing, today announced that LENNOX EMEA, a leading provider of climate control solutions for heating, air conditioning and refrigeration markets, has chosen Esker to automate its Procure-to-Pay (P2P) and Order-to-Cash (O2C) cycles. This large-scale digital transformation project is part of the company's global modernization initiative.
With more than 120,000 documents to process each year, LENNOX EMEA turned to Esker to automate its O2C processes (order management and accounts receivable) and P2P processes (procurement and accounts payable), unite customers and suppliers, and help to meet several key objectives:

Increase productivity: Standardize processes between different sites and multiple ERPs
Improve cost savings: Reduce management costs and improve profitability
Digitally transform business: Modernize and simplify all processes by reducing low-value manual tasks and modernize company image to attract new talents
Maximize performance (lean office): Institute a global solution to create value across all functions
"Esker came highly recommended from other companies, as well as from our parent company in the U.S. who already automate their O2C processes with Esker," said Nicolas Courtois, Director, Business Transformation EMEA at LENNOX EMEA. "We were attracted to the fact that both LENNOX EMEA and Esker have headquarters in Lyon, France, and a strong international presence. Esker was the ideal partner to support us in our ambitious digital transformation project."
Benefits of AI-driven automation
Esker's solutions will initially be implemented in France and Spain subsidiaries in phase one, and rolled out to the rest of LENNOX EMEA entities in a second phase. Esker will enable LENNOX EMEA to better manage their cash conversion cycle with the following expected benefits:

Enhanced company image both internally and externally: Esker's solutions support LENNOX EMEA's Attract Development Retain (ADR) approach
Greater efficiency with evolution of positions within the company towards more expertise
Faster processing and secure document exchanges (e.g., fewer errors and lost documents)
Increased profitability for both the P2P and O2C cycles with decreased management costs, faster invoice and order processing, collections management and payment received
Improved customer and supplier relationships thanks to faster, automated processes
Mobility and business continuity
Esker is equipped with the right infrastructure, solutions and support in place to help LENNOX EMEA remain operational during times of unprecedented change. Esker will allow LENNOX EMEA to ensure O2C and P2P efficiency and offer its employees unparalleled working comfort thanks to remote access.
About LENNOX EMEA / LENNOX INTERNATIONAL
LENNOX EMEA (Europe, Middle East, Africa), a division of Lennox International Incorporated (LII), designs and manufactures heating, air conditioning, air handling and refrigeration equipment. Created in 1895, LII is present on five continents and has almost 10,000 employees around the world. In 2019, the company achieved $3.77 billion in sales revenue, of which 3% goes to Research & Development. LII has filed 107 patents since 2011 and is a publicly traded company on the NYSE.
About Esker
Esker is a worldwide leader in AI-driven process automation software, helping financial and customer service departments digitally transform their procure-to-pay (P2P) and order-to-cash (O2C) cycles. Used by more than 6,000 companies worldwide, Esker's solutions incorporate artificial intelligence (AI) technology to drive increased productivity, enhanced visibility, reduced fraud risk, and improved collaboration with customers, suppliers and internally. Founded in 1985, Esker operates in North America, Latin America, Europe and Asia Pacific with global headquarters in Lyon, France, and U.S. headquarters in Madison, Wisconsin. For more information on Esker and its solutions, visit http://www.esker.com. Follow Esker on Twitter @EskerInc and join the conversation on the Esker blog at blog.esker.com.