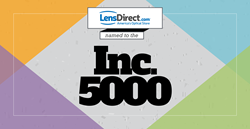 "We've become America's Optical Store by putting the customer first and everything else second." LensDirect.com CEO, Ryan Alovis
GARDEN CITY, N.Y. (PRWEB) August 28, 2018
Inc. Magazine has announced that LensDirect.com, a leading online retailer of contact lenses, has been ranked in 1138th place on the 27th annual Inc. 5000, the most prestigious ranking of the nation's fastest growing private companies.
The list represents the most successful companies within the American economy's most dynamic segment – independent small businesses.
Many well-known companies first gained national exposure as honorees on the Inc. 5000. Companies like Microsoft, Dell, Domino's Pizza, LinkedIn, Zillow, Yelp, Pandora, and many others.
"I couldn't be prouder of this accomplishment, and it's testament to how we value the customer," said LensDirect.com CEO Ryan Alovis. "We've become America's Optical Store by putting the customer first and everything else second."
LensDirect.com expects its growth numbers to continue to soar as it puts more emphasis on its AutoRefill Subscription Program. AutoRefill is a 'set it and forget it' model that allows customer to never run low on contact lenses.
Beyond the AutoRefill Subscription Program, LensDirect.com is the only online retailer of contact lenses that provides a Dedicated Account Representative to every customer, ensuring that each customer has to deal with only one customer service representative. Both AutoRefill and Dedicated Account Representatives have been key factors in its extraordinary customer satisfaction rating of 97%.
"If your company is on the Inc. 5000, it's unparalleled recognition of your years of hard work and sacrifice," says Inc. editor in chief James Ledbetter. "The lines of business may come and go, or come and stay. What doesn't change is the way entrepreneurs create and accelerate the forces that shape our lives."
For more information on LensDirect.com, visit http://www.lensdirect.com.