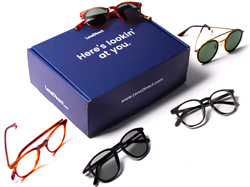 As pioneers in the contact lens direct-to-consumer space, we are excited to offer that same level of exceptionalism around the eyewear lens replacement category," says Ken Alovis, Partner of LensDirect.com.
GARDEN CITY, N.Y. (PRWEB) January 14, 2020
LensDirect.com, the leading online retailer for optical products, launched a first of its kind prescription lens replacement service that makes it easier and more affordable for consumers to replace lenses in their eyeglasses and sunglasses. This new service is available for both prescription and non-prescription lenses.
For over 30 years, LensDirect.com has set themselves apart from their competitors, becoming the go-to company for brand name contact lenses as a result of their award-winning service and incredible pricing. LensDirect is now applying their unique business model into the eyeglass lens replacement market.
Traditionally, lens replacements for eyeglasses or sunglasses retail for $300 and up, a figure that does not factor in the time consumers spend travelling to and from the optician and brick-and-mortar optical retailers. LensDirect has boldly started their pricing at $69 with shipping absorbed into the cost structure, ultimately providing an average savings of 80% or more.
"As pioneers in the contact lens direct-to-consumer space, we are excited to offer the same level of exceptionalism and innovation around the eyewear lens replacement space," says Ken Alovis, Partner of LensDirect.com. "The general consumer has limited options to affordably replace the lenses on their existing frames, and we're committed to fixing that."
LensDirect offers a simple-to-use online interface where consumers can seamlessly replace existing damaged lenses from their brand name sunglasses or eyeglasses by choosing from a range of prescription and non-prescription options. Once the lenses have been selected, LensDirect will send the consumer a box with a pre-paid label affixed, or the consumer can simply print a pre-paid label from home. Consumers ship their frames to LensDirect and once received, new lenses are custom created, fit to the frame, and sent back in a complimentary case with a microfiber cloth.
In continuing their business model of doing more for their customers for less, LensDirect includes premium lens coatings like Anti-Reflective, Anti-Scratch and UV Protection at no additional cost.
LensDirect also announced it will be launching Delancey Street Eyewear in the upcoming weeks. Delancey Street Eyewear will pay homage to the LensDirect legacy in the optical industry, which dates back to the early 1900's on Delancey Street on Lower East Side of New York City. True to The Company's roots, the frames will be affordable, stylish, and functional.
For a limited time, customers can visit LensDirect.com to save an additional 40% on their lens replacement order by using the offer code REPLACE40. This offer is valid through March 17th, 2020.
For more information on LensDirect, please visit the company's website or follow them on Facebook.
About LensDirect.com:
Founded in 1992, LensDirect.com is one of the largest independent online retailers of optical goods. The New York based company operates with a customer first mentality, and because of that they've grown into one of the highest rated online retailers in the United States.