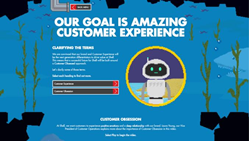 The TTAC course consists of a gamified learning design that uses microlearning to support Shell's 'flipped classroom' blended learning approach.
ATLANTA (PRWEB) November 04, 2019
LEO Learning, the market leader in innovative digital learning solutions, has won the award for Best Onboarding/Employee Orientation Solution for their TTAC (Think, Talk, Act Customer) learning program with Shell.
The award is the latest recognition of LEO Learning's creative approach to digital learning, following previous DevLearn DemoFest awards, including best game-based learning solution in 2018.
DemoFest is a showcase of cutting-edge, technology-led learning and performance support projects built by learning professionals. The awards focus on projects that achieved their objectives and had a positive impact on their organizations.
"We are very honored to win at DemoFest again. It means so much to us to be voted for by our peers in the industry, and particularly for a gamified customer service program that brings creativity and innovative design to such an important topic for many of our customers," said Andrew Joly, Director of Strategic Design at LEO Learning.
"On top of the win itself, this is all the more exciting for us as it is the third year running that we have won a gold award at DemoFest. It really brings to the fore the exceptional quality of the work coming out of our teams, year on year."
The TTAC course consists of a gamified learning design that uses microlearning to support Shell's 'flipped classroom' blended learning approach. LEO Learning used an array of gaming features to make the course feel rewarding, progressive, fun and memorable. It also provides learners with a safe environment to practice solving realistic customer challenges.
TTAC focuses on improving the onboarding experience for new staff with an engaging, user-friendly and time-efficient take on customer experience. By replacing face-to-face training modules, TTAC reduces overall training time for the learner from 24 hours to just seven.
"The project fulfilled its goal to unlock time liberation from activities in the coaching community by automating and digitizing onboarding to a customer interaction aspect of the role by offering a modern, digital and enhanced employee experience. It also enabled the new joiners to be up to speed as soon as possible with the flexibility and accessibility of the design," said Özlen Cili, Global Learning Advisor, Customer Operations, Shell.
Click here for examples of LEO's award-winning learning games and gamification programs for Godiva and LOMA.
/Ends
About LEO Learning
LEO Learning believes that technology-enabled learning innovation has the power to deliver transformational results. Our purpose is to help clients deploy learning technology to deliver outcomes precisely aligned to their business goals. Backed by more than 30 years of experience, we design engaging learning architectures that fit seamlessly into businesses and improve performance throughout the entire organization.
LEO Learning has the deep understanding of learning design and technology, and pioneering creative approach, necessary to drive learning transformation.
LEO Learning's expanding global customer base includes organizations such as the NHS, Civil Service Learning, Jaguar Land Rover, Visa, Volvo, Suncorp, Fidelity, Virgin Atlantic, Novartis, Godiva, Volkswagen, Dunhill, KPMG, Roche and Mars.
LEO Learning is part of Learning Technologies Group plc's award-winning group of specialist learning technology businesses.
For more, visit leolearning.com.