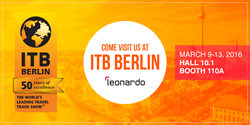 "We are known as innovators. It's in our culture, in our products and in the way we do business."
Toronto, CANADA (PRWEB) March 07, 2016
Leonardo Worldwide, a technology company serving the global hospitality industry on a mission to make travel suppliers more successful with software solutions that reach, engage, convert and satisfy online travel shoppers, is transforming multi-media management for hotel groups and travel websites.
The company will be on-site at ITB Berlin (booth 110A in Hall 10.1) demonstrating the power of its leading enterprise cloud-based technology solutions for travel suppliers – VScape and MediaConnect.
Enterprise class digital asset management
With the growing number of online channels and devices that travelers use to research and book hotels, ensuring the consistency and relevance of how a hotel is presented visually across the web is a struggle many hotel groups (large and small) are faced with.
Leonardo's robust digital asset management system, VScape, alleviates the complexity of sourcing, managing, distributing and displaying visual content for hotel chains. At ITB, Leonardo will be showcasing the many features and benefits that VScape brings to hotel chains across the globe today and previewing the technology enhancements to be rolled out in the near future.
For OTAs and other online travel retailers sourcing, storing and maintaining a repository of large, high-resolution images and media files for tens and thousands of properties and keeping it all matched and updated on a website is complex and costly without the right technology.
Leonardo's MediaConnect solution leverages the latest cloud technology to host and serve normalized images and multi-media for over 100,000 GDS listed hotels. OTA-compliant XML interface provides quick implementation and industry compatibility. Intelligent, advanced technology including image de-duplication and advanced property matching algorithms ensure seamless synchronization.
Travel suppliers – hotel chains and travel websites – share a common goal to capture as many direct bookings as possible through their own hotel booking channels. Today, displaying large, high-resolution curated visuals prominently and seamlessly on all screen sizes is a significant factor in website conversions. Leonardo will be demonstrating its latest advances in Multi-Media Display Galleries that seamlessly integrate with both VScape and MediaConnect solutions at ITB.
"Our ability to carry out our mission to make travel suppliers more successful requires an unwavering focus on constant innovation and leading technology – and it's this focus that drives everything we do. We are known as innovators. It's in our culture, in our products and in the way we do business," says John McAuliffe, President, Leonardo.
Get to know Leonardo's technology at ITB Berlin: Book a meeting with a Leonardo consultant.